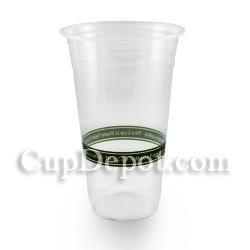 City of Industry, CA (Vocus) May 28, 2010
CupDepot.com, online manufacturer of Karat® plastic cups and other beverage handling supplies, is introducing new products to its line-up of high quality merchandise. Starting this June, CupDepot.com will carry a new line of 10oz Karat® Paper Hot Cups, with the 24oz version coming soon. The new variety of Paper Hot Cups will be available in both white and generic print; and features interchangeable lids with 10oz, 12 oz, 16oz, & 20oz cups. The new 10oz Karat® Paper Hot Cups will only cost $68 per case. Additionally, CupDepot.com will also be adding new 10oz Karat® Eco-Friendly Paper Hot Cups to its catalogue of products.
In addition to the introduction of new 10oz Karat® Paper Hot Cup, CupDepot.com is also preparing for its Buy-More-Save-More sale on colored teaspoon selections and molded fiber cup carriers. Green, yellow, pink, and red colored teaspoons are only $28.75/case, discounted from the original price of $35.00/case, when customers order three or more cases. In June, molded fiber cup carriers are discounted at least 12%. 4-cup carriers, 4-cup carriers with trays, and 2-cup carriers are $40.00/case for purchases of three or more cases, while 2-cup carrier with trays are only $28.00 for orders of three or more cases.
Besides offering competitive prices on plastic cups, CupDepot.com is also known to slash down prices on its other beverage handling items. One item featured in this month's sales is the 10oz Karat® Earth Eco-Friendly Paper Hot Cup which now retails for $76.00 per case, which is discounted from its original selling price of $84.20. Additionally, 3oz Karat® Plastic PET Portion Cups are now only $73.00 per case, and 12oz Karat® Eco-Friendly PLA Clear Cups in stock print are now available for only $84.00 per case. Finally, 4oz Karat® Paper Hot Cups are now only $37.00 per case. Because this company is dedicated to keeping customers happy, CupDepot.com also offers free shipping for all plastic cup purchases as long as the order is being delivered within the Continental US.
CupDepot.com manufactures Karat® Eco-Friendly and Karat® Earth brand products, and is known for its line-up of high quality beverage handling supplies, which are all sold at very competitive prices. Keeping its customers' needs in mind, CupDepot.com carries a wide range of plastic cups along with a large variety of other food and beverage handling supplies including, but not limited to, cup carriers, teaspoons, straws and dessert cups. For the latest updates on discounts for plastic cups and Paper Hot Cups, visit CupDepot.com and sign up for CupDepot.com's coupon mailing list.
About CupDepot.com
Cupdepot.com is based in Industry, CA, and is the manufacturer of Karat® and Karat® Earth paper and plastic products. CupDepot.com is a subsidiary of Lollicup® USA, Inc. and offers customers affordable premium plastic and paper cups, utensils, containers, straws, coffee cup jackets, and other beverage handling supplies. Also headquartered in the City of Industry, Lollicup® is known for its retailing bubble tea drink stores under the Lollicup® Coffee and Tea name. It is also well known for its Lollicup® Tea Zone brand line-up of coffee syrups and more. Press release produced by Cybertegic.com – an Internet marketing services agency that specializes in search engine optimized press release marketing (SEO Marketing).
###