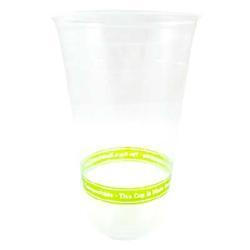 City of Industry, CA (PRWEB) July 16, 2009
CupDepot, the manufacturer of Karat® and Karat Earth® paper and plastic cups, is inviting customers to kick off the summer with a limited-time, money-saving offer for customers looking to purchase eco-friendly cups. Now, customers can receive free matching flat lids with a purchase of clear biodegradable plastic cups. This offer is good for 12 oz. PLA plastic cups in clear and stock print, 16 oz. clear PLA plastic cups, and 24 oz. clear PLA plastic cups.
All of CupDepot's biodegradable plastic cups are from Karat ® Earth, a compostable line of eco-friendly paper and plastic ware including biodegradable plastic cups, paper cups, and plastic straws. Karat® Earth's plastic disposable-wares are made with NatureWorks® PLA, a polymer that can be completely degraded, posting no threat to the natural environment. Unlike most PLA products in the market, the Karat® Earth's PLA cups and lids are made in standard cup/lid sizes for easy switch and storage.
CupDepot makes it their mission to provide customers with well-engineered, top-quality, and unmatched services. If customers would like to know more about CupDepot and its plastic cups, paper cups, plastic straws, and assorted food containers and utensils, sign up for CupDepot's bi-weekly newsletter, which frequently offers promotional codes and specials.
About CupDepot
CupDepot.com is a subsidiary of Lollicup® USA Inc offering affordable premium plastic and paper cups, utensils, containers, straws, etc. Headquartered in the City of Industry, Lollicup® is also known for its retailing bubble tea drink stores under the Lollicup® Coffee and Tea and Lollicup® Tea Zone brands. Press release produced by Cybertegic.com - an Internet marketing services agency that specializes in search engine optimized press release marketing (SEO marketing).
###