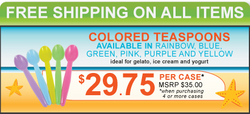 City of Industry, CA (PRWEB) August 26, 2009
Premiere online plastic cups manufacturer Cupdepot.com is slashing off $5.25 on their NEW colored teaspoons line when you purchase more then four cases. From the original price of $35.00 per case, these colored teaspoons may now be purchased for only $29.75 per case. CupDepot.com's new colored teaspoon line is available in blue, green, pink, purple, yellow, and will soon extend to red and orange. The new line of colored spoons makes the perfect companion with well-loved desserts such as ice cream, gelato, and yogurt. Also, enjoy free shipping on all products all the time to anywhere in the continental United States of America (48 States).
Cupdepot.com does not just stop with their line of colored utensils; this month stock up and save on plastic cups and hot cups. The 3oz Clear Plastic PET portion cups are now only $75.00 from the original price of $80.00. If more then five cases of mini plastic cups are purchased, you get to enjoy an additional $5.00 off. 12oz Clear Plastic PET Cups have also been slashed $5.00 and if ordered in bulk CupDepot.com will reduce the price an extra $7.00. The hot cup line has also turned green and slashed down prices as well. The Karat® Earth 16oz Eco-Friendly Paper Hot Cups are now available at only $75.00; while the matching paper cup Jackets and Sleeves have now gone from $45.00 to $40.00. In typical CupDepot.com tradition, purchase at least three cases of these paper cup companions and an extra $4.00 will be taken off.
CupDepot.com is the online manufacturer of Karat and Karat Earth paper and plastic cups. Karat® plastic cups are made with PP and PET materials which are highly translucent and well known for its high level of clarity. At CupDepot.com it is felt that great cups should be able to be customized to fit the customers needs, so offer custom-made plastic cups printing that fits your budget, needs, and look. Aside from paper cups, plastic cups, and custom printing; Cupdepot.com offers a wide range of beverage handling supplies that are durable, affordable, and environmentally-friendly.
CupDepot.com makes it their mission to provide customers with well-engineered, top-quality, and unmatched services. If customers would like to know more about CupDepot.com and its plastic cups, paper cups, plastic straws, assorted food containers, and more; sign up for CupDepot.com's bi-weekly promotions and deals.
About CupDepot.com
Cupdept.com is the manufacturer of Karat® and Karat® Earth paper and plastic products based in Industry, Ca. CupDepot.com is a subsidiary of Lollicup® USA, Inc. offering affordable premium plastic and paper cups, utensils, containers, straws, coffee cup jackets, etc. Headquartered in the City of Industry, Lollicup® is also known for its retailing bubble tea drink stores under the Lollicup® Coffee and Tea name. They are also well known for their Lollicup® Tea Zone brands line of coffee syrups and more. Press release produced by Cybertegic.com - an Internet marketing services agency that specializes in search engine optimized press release marketing (SEO Marketing).
###