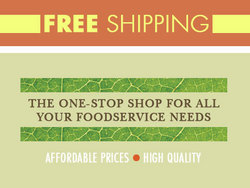 City of Industry, CA (Vocus) June 30, 2010
Online plastic cups manufacturer and online supplier of Karat® and Karat® Earth disposable products, CupDepot.com, is introducing new eco-friendly paper cups and plastic cups, as well as adding a new item to its line of food and beverage handling supplies. This month, CupDepot.com is adding new 5 oz. Karat® food containers, 12 oz. and 16 oz. Karat® PolyPro Cups, and 24 oz. Karat® Paper Hot Cups available in white or generic print. In addition to these new items, CupDepot.com is introducing Karat® janitorial supplies and bringing back Karat® colored teaspoons.
Karat® Earth is a compostable line of eco-friendly products, paper and plastic ware, developed from the idea that living green can help people save green. Karat® Earth specializes in plastic cups, paper coffee cups, dessert cups, food containers, cup lids, and related food packaging products, including customized cups and cup sleeves. CupDepot.com's new 5 oz. Karat® food containers, 12 oz. and 16 oz. Karat® PolyPro Cups, and 24 oz. Karat® Paper Hot Cups are specifically designed for cold food. These products' premium double poly paper food containers are fantastic for ice cream, yogurt, gelato, noodle, and salads.
Karat® colored teaspoons are a customer favorite! Made from PP plastic material, Karat® Plastic Rainbow Colored Spoons are ideal for restaurants, cafe', or home use. These fun spoons are available for a value price of $58.50 for two cases of 1,000 pieces each.
CupDepot.com can do it all. Cupdepot.com has a variety of plastic cups, paper cups, and other food and beverage handling supplies whether it is for home or business use. CupDepot.com offers wholesale and competitive pricing on custom-made plastic cups and is a preferred supplier of personalized plastic cups in the restaurant business. Take advantage of CupDepot.com's custom printing services for simple and effective ways to advertise your business.
The online plastic cups manufacturer and restaurant supplier is constantly making irresistible deals and offers on paper and plastic cup merchandise. To remain updated on the latest news, deals and promotions on plastic cup purchases, visit the official CupDepot.com blog to know more about its line of eco-friendly products. Or, for the latest updates on discounts for plastic cups and Paper Hot Cups, visit CupDepot.com and sign up for its coupon mailing list.
About CupDepot.com
Cupdepot.com is the manufacturer of Karat® and Karat® Earth paper and plastic products based in Industry, Ca. CupDepot.com is a subsidiary of Lollicup® USA, Inc. offering affordable premium plastic and paper cups, utensils, containers, straws, coffee cup jackets, etc. Headquartered in the City of Industry, Lollicup® is also known for its retailing bubble tea drink stores under the Lollicup® Coffee and Tea name. They are also well known for their Lollicup® Tea Zone brands line of coffee syrups and more. Press release produced by Cybertegic.com – an Internet marketing services agency that specializes in search engine optimized press release marketing (SEO Marketing).
# # #