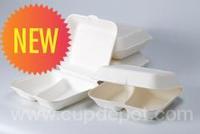 Stock up the Break Room for Less
City of Industry, CA (Vocus) September 1, 2010
Premiere online supplier of plastic cups, paper cups, and other food and beverage handling supplies, CupDepot.com, has exciting deals and discounts for customers for the end of summer. Aside from shopping for plastic cups and paper cups, CupDepot.com also now carries break room supplies, making them your official one-stop shop. CupDepot.com is offering discounts of as much as $75 off all break room supplies. Log on to the website for coffee cups for hot beverages, water cups for cold beverages, janitorial supplies and other break room accessories such as teaspoons, forks, sleeves and coffee stirrers. Customers who use the coupon code "BREAK30" receive a $30 discount on purchases of $500 or more. Meanwhile, customers who use the coupon code "BREAK75" receive $75 off on purchases of $1,000 or more.
Starting this season, CupDepot.com will begin offering compostable bamboo fiber tableware, including hamburger boxes, lunch boxes, bowls, and plates. This new line-up is 100% percent compostable, CupDepot.com's extensive line of bamboo fiber tableware can fit all your restaurant needs. Prices start as low as $49.95 for 7" compostable bamboo fiber lunch boxes (2,500 pieces per carton).
Karat® paper hot cups are perfect for coffee, tea, and other hot beverages. Prices start as low as $37.00 for 4 oz white paper hot cups, 1,000 pieces a case. Available in white or stock print designs, these premium quality paper cups are widely used in all types of restaurants and cafes and are double poly lined to prevent leaking and for added resilience.
Also available are Karat® paper cups for cold beverages, which start as low as $58.00/case. Double Poly lined to prevent leaking and for added resilience, these Karat® paper cold cups are specially designed for use with soda and cold beverage and are great for restaurants and cafes. These cups are offered in white or stock print designs and in a variety of sizes from 9oz – 32oz.
Take advantage of CupDepot.com's fantastic "Stock up the Break Room for Less" promotion. Teaspoons, forks, hot paper cup sleeves, and coffee stirrers are also available at low prices customers won't find anywhere else. As an added treat to customers, CupDepot.com ships all plastic cup and other purchases for free within the 48 continental USA states.
CupDepot.com provides real value for money with its top quality and eco-friendly line of plastic cups, paper cups, and other food and beverage handling supplies for home and industry use. More discounts await online shoppers who buy in bulk as CupDepot.com also provides volume discounts. Simply request a sample and a price quote to find out more. Find out more about CupDepot.com's products—from plastic cups and paper cups to colored teaspoons and janitorial supplies. By simply logging in to cupdepot.com and joining the mailing list. Promotional coupons are also in store.
About CupDepot.com
Cupdepot.com is the manufacturer of Karat® and Karat® Earth paper and plastic products based in Industry, Ca. CupDepot.com is a subsidiary of Lollicup® USA, Inc. offering affordable premium plastic and paper cups, utensils, containers, straws, coffee cup jackets, etc. Headquartered in the City of Industry, Lollicup® is also known for its retailing bubble tea drink stores under the Lollicup® Coffee and Tea name. They are also well known for their Lollicup® Tea Zone brands line of coffee syrups and more. Press release produced by Cybertegic.com – an Internet marketing services agency that specializes in search engine optimized press release marketing (SEO Marketing).
###