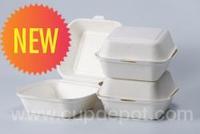 compostable bamboo fiber lunch boxes (2,500 pieces per carton) or $68.95 for 8.5
City of Industry, CA (Vocus) October 1, 2010
CupDepot.com, known for their quality restaurant equipment and plastic cups, will be offering excellent deals on new and existing items, all throughout the month of October. This includes the new compostable bamboo fiber tableware line from CupDepot.com. This new tableware line includes hamburger boxes, lunch boxes, bowls, and plates, all of which are compostable and environmentally friendly. These items are very affordable, with prices like $49.95 for 7" compostable bamboo fiber lunch boxes (2,500 pieces per carton) or $68.95 for 8.5" Round Compostable Bamboo Fiber Plates (500 pieces per carton).
CupDepot.com is offering a fantastic discount for the entire month of October with more savings on larger orders. For orders $200 or more, customers can enter the promo code "FALL10" and save $10 off the total purchase price. Customers can enter the promo code "FALL30" and save $30 off the total purchase price on orders $500 or more. If customers order $1000 or more of any items from CupDepot.com, they can enter the promo code "FALL75" and save $75 off the total purchase price. These month-long discounts are active for all items from CupDepot.com, such as plastic cups and more.
Aside from the usual high quality plastic cups, CupDepot.com will also be introducing party supplies to the list of products available. These party supplies include cutlery kits, cups and straws. Alongside plastic cups from CupDepot.com, these party supplies are perfect for parties of all sorts. These supplies, like the rest of the large range of products at CupDepot.com, are manufactured to ensure high quality and are all very affordable.
CupDepot.com also is introducing new janitorial supplies and dispensers to extend the range of products offered. These premium janitorial supplies are perfect for industry use and are very affordable. Be sure to check out the coffee cups and plastic cups from CupDepot.com. The coffee cups are double poly lined during the manufacturing process to ensure that they will not leak or tear. Remember to use the promo codes on orders where applicable, as they are only available during the month of October. Also, keep in mind that CupDepot.com ships purchases of plastic cups and all other purchases for free within the 48 continental United States.
CupDepot.com provides affordable, premium, and eco-friendly plastic cups, paper cups, and other food and beverage handling supplies for home and industry use. CupDepot.com also provides volume discounts for bulk purchases; simply request a sample and a price quote to find out more. Find out more about the large range of products from CupDepot.com, including paper cups, plastic cups, colored teaspoons, janitorial supplies, and more, by joining the mailing list.
About CupDepot.com
CupDepot.com is the manufacturer of Karat® and Karat® Earth paper and plastic products based in the City of Industry, CA. CupDepot.com is a subsidiary of Lollicup® USA, Inc. offering affordable premium paper cups, plastic cups, utensils, containers, straws, coffee cup jackets, etc. Headquartered in the City of Industry, Lollicup® is also known for its retailing bubble tea drink stores under the Lollicup® Coffee and Tea name. They are also well known for their Lollicup® Tea Zone brands line of coffee syrups and more. Press release produced by Cybertegic.com – an Internet marketing services agency that specializes in search engine optimized press release marketing (SEO Marketing).
# # #