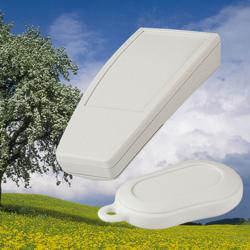 Biodegradable plastic electronics enclosures are becoming increasingly popular as manufacturers seek to reduce their carbon footprint.
Bridgeville, PA (PRWEB) November 28, 2012
Electronics companies working hard to reduce their carbon footprint are choosing new biodegradable plastic enclosures from OKW.
OKW now offers its design-oriented standard plastic enclosures in a carbon neutral bioplastic material as standard on its SOFT-CASE range and on request on many of its other popular series.
The biomaterial used by OKW has been created entirely from renewable raw materials. It has been specially formulated to replace the fossil plastics currently being used.
Unlike conventional raw materials, bioplastics are largely carbon neutral, regardless of the application involved.
After they have been used, materials made from plants release only the same amount of CO2 as they absorbed from the atmosphere during their growth phase.
OKW carried out comprehensive tests on numerous different biomaterials before specifying BIOGRADE C7500 plastic produced by FKuR Kunststoff GmbH. This bioplastic is obtained from almost 100 per cent renewable raw materials – the initial products are cotton or wood.
At the start of the process, the purified cellulose is esterified to obtain cellulose acetate (CA), which is then modified slightly. This material has similar properties to ABS and can be processed using normal injection molding methods.
For indoor applications there are no restrictions to the lifecycle of the enclosure. The heat distortion temperature is as high as 123 degrees C.
Customers can also choose specific colors for their enclosures, made possible through the use of 15 natural dyes.
Parts made from BIOGRADE are biodegradable. After the biomaterial has been crushed mechanically, it is broken down into its non-toxic initial products by micro-organisms.
The biomaterial can then be utilized thermally, guaranteeing carbon neutral energy.
The environmental advantages of this recycling method are obvious but bioplastics do not just have ecological advantages. They also help to preserve our raw material deposits and reduce our dependence on petroleum.
OKW Enclosures, Inc, Vice President, Sales, Sean Bailey, said: "Biodegradable plastic electronics enclosures are becoming increasingly popular as manufacturers seek to reduce their carbon footprint.
"We worked hard to find a carbon neutral bioplastic that would meet our own exacting performance standards and the ever more sophisticated requirements of our customers," he added.
OKW's SOFT-CASE series of handheld enclosures is the first range to be available, as standard, molded in bioplastic as well as the existing ABS material.
These modern wide-format handheld enclosures are available in four sizes – S, M, L and XL, with external dimensions from 2.00" x 3.26" x 0.55" to 3.62" x 5.90" x 1.10". The standard color of the bioplastic material is Off White (RAL 9002). Other colors can be supplied on request.
Applications for SOFT-CASE small enclosures include remote controls (cable or wireless), medical and laboratory equipment and test and measurement devices.
SOFT-CASE is a highly versatile range of hand held standard enclosures used across a broad spectrum of industries, making it an ideal choice to spearhead OKW's drive towards environmentally friendly manufacturing materials.
Customers can now request standard OKW handheld enclosures in bioplastic material as an option. A minimum order quantity applies.
Bioplastic can be specified as an optional alternative to ABS housings in the following OKW ranges of plastic enclosures:

ART-CASE – round or oval enclosures designed for indoor electronics, ideal for transmitters, receivers, detectors and security systems
BLOB – a radical new range of ergonomic handheld electronic enclosures. Their unique shapes automatically guide users' fingers to the controls
DATEC-POCKET-BOX – slim and aesthetically pleasing pocket-sized cases, perfect for remote controls and test and measurement technology
MINITEC – hand held enclosures in a wide range of size and color combinations. They can be carried in the hand, attached to a key ring, worn on the wrist or around the neck on a lanyard
SMART-CASE – hand held enclosures suitable for all types of remote control. Highly popular in the medical and wellness sector. Available with bed clamps, belt clips, desk stations, hand straps and neck lanyards
TOPTEC – universal enclosures for monitoring, signaling and control equipment.
OKW also manufactures eight ranges of instrument enclosures, a number of which can be used as desktop enclosures thanks to their swivel bail arms.
OKW offers a wide choice of customization options for its enclosures including CNC machining, bespoke colors, printing of legends and logos, RFI shielding or lacquering and aluminum metalization – enabling customers to specify fully finished enclosures easily and cost effectively.
For more information about biodegradable PCB enclosures, view OKW's website or contact OKW Enclosures, Inc, Vice President, Sales, Sean Bailey, Tel: 800-965-9872.
-Ends-
Notes for Editors
OKW ENCLOSURES, INC.
Abele Business Park
3000 Old Pond Road
Bridgeville
PA 15017
USA
Tel. 800 965 9872
Tel. 412 220 9244
Fax. 412 220 9247