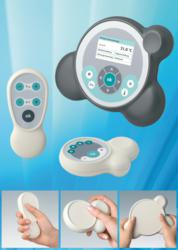 BLOB is a huge leap in the design of electronic plastic enclosures. They are so intuitive that users' fingers are automatically guided towards the controls.
Fareham, Hampshire (PRWEB UK) 18 April 2012
OKW has launched a groundbreaking new range of BLOB plastic enclosures which are set to revolutionise the ergonomics of hand held cases.
Over the last 20 years OKW has developed a whole series of innovative plastic enclosure boxes for the electronics industry – many of which have won international design awards.
Now comes the new 2012 BLOB range of contoured hand held enclosures – a major step forward that follows three years of intensive development.
In developing the new BLOB IP54 enclosures, OKW set out to create a completely different style of housing that would employ touch and feel to impart the functionality of the electronics.
The shapes employed had to be suitable for a wide range of users with different hand sizes and grasping volumes.
When users grasp the BLOB PCB enclosures, their fingers naturally rest on the control area.
As a result, they instinctively understand how to use the electronics – without the need for instructions. Keypads and controls can be easily located in these control areas.
BLOB instrument enclosures offer a wide range of possibilities for many different kinds of user-oriented applications – either wireless or with cable.
They can be used independently, as complementary units or in a network with other units. BLOB is ideal for diagnostics, therapy, laboratory, industry, office, household and leisure time electronic devices.
BLOB ABS boxes (UL 94 HB) have a two-part design consisting of a top and bottom moulding. The enclosures are available in two standard colours – Off-white (RAL 9002) or Lava Grey (NCS S 5702-B).
The BLOB range consists of three different types of electronic enclosures:

UNIT has external dimensions of 130 x 60 x 30 mm. This has a lower grasp area and a recessed keypad/control section. It is suitable for left- or right-handed operation.
CONTROL has external dimensions of 114 x 76 x 31 mm. It can be held with one hand and operated with the other. Depending on the position and definition of the display and operating area, different sensory gripping options are available.
PANEL is designed for hand held or desktop operation. It has external dimensions of 200 x 165 x 36 mm. This model can be held and operated with both hands or operated on a table top. The two symmetrically positioned gripping areas clearly demonstrate the orientation of the product.
CONTROL and PANEL versions have a separate recess where special functions can be highlighted.
All models can be battery operated with round (1.5V AAA or AA) or button cells. Special cable glands – which can be positioned at any point on the split line – can be used for cable connection for power and data transfer.
BLOB ABS enclosures can also be sealed to IP54 using the accessory sealing gasket kits available as accessories. Prices start at £10.
OKW can supply BLOB enclosures as custom enclosures with additional holes for keypads, connectors, controls and displays. It can also silk-screen print legends and logos and provide EMC shielding on the internal surfaces.
OKW Sales and Marketing Director Robert Cox said: "BLOB is a huge leap in the design of electronic plastic enclosures. They are so intuitive that users' fingers are automatically guided towards the controls.
"BLOB literally teaches by touch. This makes the range absolutely perfect for applications such as medical devices."
Features of BLOB plastic enclosures:

Hand held enclosures modelled for the hand
Unique contoured enclosures inspired by the sensation of touch and geared entirely to the needs of the user
Huge number of possible applications
Designed to provide an intuitive and natural grasp position for the operator
Once held, the operating functions are obvious to the user without any instructions
Three types are available – UNIT (for single-handed operation with keypad area and grip); CONTROL (can be held with one hand and operated with the other); PANEL (for hand held or desktop use)
Two-part design assembled using Torx T10 screws
Internal screw pillars for PCBs
Cable glands can be fitted at any position on the circumference of the enclosure
Battery types AA, AAA and Ø12-23 mm button cells can be accommodated
Material – AB (UL 94 HB)
Protection Class – IP54 (with optional sealing kit)
Standard Colours – Off-white, RAL 9002; Lava Grey, NCS S 7502-B
Accessories – IP54 sealing kit, cable gland, battery contacts and holders, polarity protection, PCB screws, T10 screwdriver
BLOB is the latest range of new plastic enclosures to be launched by OKW this year.
Earlier in the year, OKW unveiled its new range of CARRYTEC portable electronics enclosures aimed at the medical and industrial sectors.
CARRYTEC features a modern contoured design and a robust integral handle capable of carrying heavier payloads than rival enclosures with retrofitted handles.
Other ranges of hand held plastic enclosures designed and manufactured by OKW include:

MINITEC – highly tactile enclosures that are ideal for remote control units. Accessories include lanyards, wristbands or key ring attachments
ERGO-CASE – electronics enclosures that are body-contoured for extra comfort so they can be worn on the wrist
INTERFACE-TERMINAL – extremely versatile multi-functional plastic enclosures that can be hand held, wall-mounted or used as desktop enclosures
SENSO-CASE – handgrip-shaped plastic enclosures that can be specified with optional triggers.
For more information about industrial plastic enclosures, view OKW's website or contact Sales and Marketing Director Robert Cox, +44 (0)1489 583858.
-Ends-
Notes For Editors
OKW ENCLOSURES LTD
15 Brunel Way
Segensworth East
Fareham
PO15 5TX
Tel: +44 (0)1489 583858
Fax: +44 (0)1489 583836