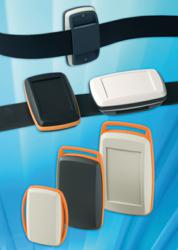 MINITEC is an incredibly versatile range of enclosures thanks to its wide choice of colors and configurability options.
Bridgeville, PA (PRWEB) June 27, 2012
OKW has added more versions and accessories to its award-winning MINITEC range of miniature plastic enclosures.
These highly attractive multi-colored ABS enclosures are designed for personal electronic devices which are carried in the hand, on a key ring, wrist strap or lanyard.
Following customer demand, OKW has now added more case sizes; a wider selection of intermediate rings plus new belt clips and carrying accessories.
The new intermediate rings for MINITEC include:

wider versions for increased case height, enabling designers to specify larger enclosures for more sophisticated electronics
plain versions without eyelets for handheld-only devices
a new ring with an aperture in the end for fitting a USB connector.
The modular construction of MINITEC hand held enclosures makes them highly versatile – ideal for a wide range of applications including medical devices, personal safety, detection, monitoring, emergency call, audio, alarm and remote control electronics.
The MINITEC range consists of two basic designs: EDGE rectangular-style cases and DROP droplet-style cases. There are now eight individual cases sizes with dimensions ranging from 2.05" x 1.26" x 0.59" to 3.07" x 1.89" x 0.79".
Each of the handheld enclosures consists of a top part, bottom part and a soft intermediate ring. The top and bottom parts are molded in Off-white or Lava Gray ABS or in black infra-red transparent PMMA (UL 94 HB). The recessed top part is designed for locating a membrane keypad or product label.
The EDGE style is also offered with a smooth top for fitting rubber keypads. Location bosses are molded in the bottom parts for mounting PCBs and components. The PCB enclosures are assembled using a single self-tapping fixing screw.
The intermediate rings are molded in soft touch TPE in four standard colors: Volcano Gray, Orange, Lime Green and Bright Blue. The rings with eyelets or strap loops are designed for the key ring, wrist strap or lanyard accessories.
Customers can configure the MINITEC small enclosures from the individual case parts by selecting the correct version and color combination.
There is a huge range of possible permutations – making it more likely that designers will be able to find their perfect color combination without having to specify custom colors. Prices start at $4.57.
OKW can also supply MINITEC as custom enclosures with holes for keypads, connectors and LEDs, plus silk-screen printed legends and logos and RFI shielding. Customization options have increased significantly over recent years, offering a much greater choice at lower prices.
OKW Enclosures, Inc, Vice President, Sales, Sean Bailey, said: "MINITEC is an incredibly versatile range of enclosures thanks to its wide choice of colors and configurability options.
"The new intermediate rings increase the possibilities still further – particularly with regard to USB connectivity – and we're confident that the new belt clips will prove highly popular too," he added.
Features of MINITEC plastic enclosures include:

Perfect design for 'companion' electronics
Designed for hand-held use, wearing around the neck or on the wrist operation
Huge range of models and color combinations
Two types: EDGE (rectangular) and DROP (droplet-shaped)
Eight standard sizes
Soft TPE intermediate rings provide loops or eyelets for a key ring, lanyard or wrist strap
Models with smooth top for push-buttons, or recessed top for membrane keypad or label
PCB supports in the base
Easy assembly with self-tapping screw
Materials – ABS (UL 94 HB), PMMA (Plexiglas) Infra-red black
Protection Class – IP41
Standard Colors – Off-white, RAL 9002 (case and TPE ring); Lava, NCS S 7502-B (case and TPE ring); Black, RAL 9005 (case and ring); Volcano, NCS S 5502-G (TPE ring); Orange, NCS S 1070-Y40R (TPE ring); Green, NCS S 1070-G60Y (TPE ring); Blue, NCS S 1060-B (TPE ring);
Accessories – key ring, hand strap, lanyards, wrist strap, belt clip.
MINITEC is one of 20 ranges of sealed enclosures designed and manufactured by OKW.
Other ranges of enclosures from OKW include:

BLOB – a brand new range of ground-breaking ergonomically contoured enclosures that naturally guide the users' hands to the controls
SOFT-CASE – handy wide-format cases (in four standard sizes) with keypad recess and lateral connector panel; accessories include the 4-K in-vehicle/on-bike holding system
DATEC-POCKET-BOX – modern IP rated cases with keypad recess and battery compartments; they can also be used with the 4-K in-vehicle/on-bike holding system
ERGO-CASE – specially contoured cases with optional belt/arm straps; can be worn on the body or wall-mounted.
For more information about MINITEC and OKW's other ranges of electronic enclosures, view the website or contact OKW Enclosures, Inc, Vice President, Sales, Sean Bailey, Tel: 800-965-9872.
-Ends-
Notes for Editors
OKW ENCLOSURES, INC.
Abele Business Park
3000 Old Pond Road
Bridgeville
PA 15017
USA
Tel. 800 965 9872
Tel. 412 220 9244
Fax. 412 220 9247