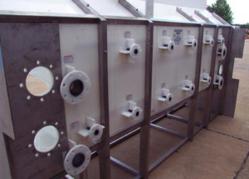 Our custom fabrication experience, CNC machining and cutting capabilities, and warehousing space allow us to offer these services to other companies that may not have the space or equipment.
Streetsboro, Ohio (PRWEB) March 31, 2012
Protectoplas is now offering CNC precision, contract plastic and woodcutting services to third parties. The company has the space and machinery available to cut, pack, store and ship plastic or wood parts on behalf of all industries. Working with the latest computer aided machining software (CAM) Protectoplas offers full functionality for almost all file types including DXF, DWG, STL, IGES, STEP, IPT, IDW and others. Stress analysis, and CAD services are also available.
Immediate capabilities for stock sizes of 60 inch (1524mm) x 144 inch (3657.6mm) x 9 inch (228.6mm) machined in 3 axes to be cut, packaged, and shipped. Custom size stock, 5 axis+, or artistic needs can be performed upon request. The available equipment can cut 100% of the 60 x 144 stock, maximizing raw material yield.
The company's large, indoor facility allows for year round operation in any weather. Fully craned with lifting capacity to 25 tons, Protectoplas can handle large and small stock with time saving precision. The 50,000 sq. ft. warehouse can handle enough raw materials to deliver required product quantities while also allowing for emergency stock. Located close to freeway and turnpike access, the facility also makes a great distribution point to service a large portion of the United States.
"Our custom fabrication experience, CNC machining and cutting capabilities, and warehousing space allow us to offer these services to other companies that may not have the space or equipment," stated Zach Eberly of Protectoplas.
Examples of the company's custom fabrication and machining include HDPE bottling line gears and replacement line parts, weirs and scraper blades for waste water treatment, wear parts for sweeper trucks, wooden wire spools, vehicle wear plates, HDPE buckles, HDPE two-color signs and tags, fitting blanks, wall brackets, filling stations, chemical resistant wall covers and back plates for wash stations.
Protectoplas offers full blind service. Companies may ship raw materials to Protectoplas where they will process, pack, and store products until ready for pick up. IT systems offer full ERP2.0 type web access to stock of raw and finished goods.
Protectoplas also acts as a logistics center, with access to all types of carriers including oversized and specialty movers, FedEx/UPS, and standard LTL drivers.
Protectoplas currently stocks plastics from .060 - 1.5 in thick in polyethylene, polypropylene, copoly, PVC, Lexan, acrylic, and UHMW. All other plastic types can be stocked upon request, along with a vast list of wood products. For more information on material, services, or custom product machining and fabrication, visit their custom equipment fabrication and machining page on the web, or call 800.525.2661.
About Protectoplas
Protectoplas began in 1962 as the fiberglass tank manufacturer Protective Plastics Company. In the 1970's, as rotationally molded tanks became more desirable storage solutions, Ebco Inc. was formed to branch out into this emerging market. Protectoplas was created to handle all of the heavy industrial fabrication of tanks and products out of new materials such as HDLPE, Polypropylene, and PVC.
The company offers a wide range of products backed by years of field service and experience. Our welded flanges, MT mixing tank line, DW double walled tank line, Bleach-Guard System, AG-TANK II™, and custom fabrication abilities make Protectoplas an ideal source for local and global companies seeking chemical resistant parts. The 50,000 sq. ft. fabrication facility in Streetsboro Ohio allows for a vast range of abilities to service any size project while also providing indoor storage for our inventory of chemical storage and blending needs.
For more information on Protectoplas products and services, please call 800.525.2661 or visit http://www.mixtanks.net.