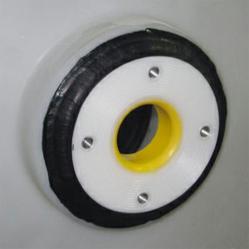 The Protectoplas Welded Pad Flange Nozzle was the only way we could get piping to our tank in our cramped location.
Streetsboro, Ohio (PRWEB) February 01, 2012
The new HDLPE welded plastic flanges from Protectoplas range in size from 1 to 24 inches and are stocked in standard ANSI B16.5 150# drilling/O.D. patterns. This stout, 3rd generation design is the culmination of 20 years in field and shop testing designs. Protectoplas also provides flanges with drilling patterns for many other ANSI standards. Flanges can also be supplied with metric or "DN" drilling as well as custom, made-to-order patterns. These flanges are gas welded to stock polyethylene pipe and can be installed on any linear poly tank.
These plastic industrial flanges can be used indoors or outdoors, and come in two different styles. The standard Welded Flanged Nozzle (WFN™) is the most requested tank accessory, featuring four, full 0.5 inch thick gusset plates, 1.25 inch thick face, 1 in thick re-pad (for sidewall applications), heavy duty welded construction that eliminates internal gaskets/bolts, and a full raised face design. This flange only requires 11 ft/lbs of torque to seal back a full 15,000 gal tank.
The new flange is also available in the space saving Welded Pad Flange Nozzle (WPFN™) design. This fitting reduces the standard 6-inch flange projection to 1.25 inches, making it ideal for cone bottom tank drains or any other tight piping applications. It includes stainless thread inserts for bolting and still only requires the same 11 ft/lbs of torque to seal. The WPFN flange is offered in standard sizes from 1 to 6 inches in the same drilling patterns, but can also be custom made in larger sizes depending upon the application.
"The Protectoplas Welded Pad Flange Nozzle was the only way we could get piping to our tank in our cramped location," offered one customer of the new fitting.
Both the WFN™ and the WPFN™ flanges are constructed of heavy-duty high-density linear polyethylene (HDLPE) for superior chemical resistance and tank saving installation. Protectoplas welded fittings only require one hole per fitting for installation, and there are no exposed metal or gasket parts. Unlike bolted compression fittings that require several holes (which add multiple failure points), metal bolts (which are subject to corrosion), and gaskets (which can swell or deteriorate) these welded fittings are virtually maintenance free.
These flanges require the same flexible connections that compression fittings require, so there are no special piping requirements. Any standard "bellows" style connection for plastic tanks with work with either style of flange.
Many accessories are available for these flanges, including anti-vortex fins, flange adaptor kits, ball or butterfly valves, quick connect, down pipes, siphons, sparger pipes, or other adaptations. Double walled flanges are available along with double walled piping connections.
About Protectoplas
Protectoplas began in 1962 as the fiberglass tank manufacturer Protective Plastics Company. In the 1970's, as rotationally molded tanks became more desirable storage solutions, Ebco Inc. was formed to branch out into this emerging market. Protectoplas was created to handle all of the heavy industrial fabrication of tanks and products out of new materials such as HDLPE, Polypropylene, and PVC.
The company offers a wide range of products backed by years of field service and experience. Our welded flanges, MT mixing tank line, DW double walled tank line, Bleach-Guard System, AG-TANK II™, and custom fabrication abilities make Protectoplas an ideal source for local and global companies seeking chemical resistant parts. The 50,000 sq. ft. fabrication facility in Streetsboro Ohio allows for a vast range of abilities to service any size project while also providing indoor storage for our inventory of chemical storage and blending needs.
For more information on Protectoplas products and services, please call 800.525.2661 or visit http://www.mixtanks.net.
# # #