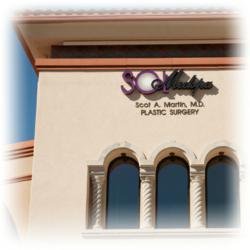 Las Cruces, NM (PRWEB) September 06, 2011
Dr. Scot Martin announces the opening of his new center for plastic surgery. El Paso and Las Cruces patients can now have outpatient procedures performed in a welcoming environment through the certified center.
"Hospitals have their place," said Dr. Martin, "but we feel patients who are having outpatient procedures will be more comfortable at our center. Its warm surroundings and our welcoming staff just make the surgery process easier on all involved."
The new center is certified with the American Association for Accreditation of Ambulatory Surgery Facilities, Inc, earning the highest level of accreditation the association offers. "We pride ourselves in our excellent facility," stated Dr. Martin. "Our patients have all of the technology and advances they would have in a hospital, but with a more personal feel."
Those undergoing plastic surgery sometimes feel stress about the process. When asked about this, the Las Cruces and El Paso plastic surgeon said, "While my patients are choosing to have elective procedures, they still experience a measure of apprehension about the surgery process. We have found that our inviting clinic and surgery center can reduce some of this apprehension, because we are able to make patients feel more comfortable from the moment they walk in the door. That improves outcomes for everyone.
Patients sometimes wonder if they miss out on technological advances if they choose to have their surgeries at a surgery center instead of a hospital. Dr. Martin ensures that each patient has access to the latest technological advances at the facility, and the staff maintains a high level of cleanliness in every area of the clinic. So, for those having outpatient procedures, there is no detriment when coming to the surgery center.
At the newly opened center for plastic surgery, El Paso and Las Cruces patients can undergo a wide range of cosmetic procedures. Dr. Martin handles everything from body contouring procedures to facial reconstruction and even breast surgery. He also offers non-surgical cosmetic treatments at the nearby Sol Medspa. Financing is available for those who need some help to pay for their procedures. The clinic also maintains a concierge service for those traveling from out of town to visit the Las Cruces and El Paso plastic surgery center.
For more information, plastic surgeon, Dr. Scot Martin, invites you to visit his website at http://www.drscotmartin.com or contact his office at (575) 521-7111 or 141 South Roadrunner Parkway, Suite 129, Las Cruces, NM 88011-2000.
About Dr. Martin
Dr. Scot Martin is the lead surgeon at Sol Medspa. The Las Cruces and El Paso plastic surgeon recently opened an outpatient surgery center that helps surgical patients get the treatment they want to improve their appearance while avoiding the hospital experience. To learn more about Dr. Martin and his surgery center, visit http://www.drscotmartin.com.
# # #