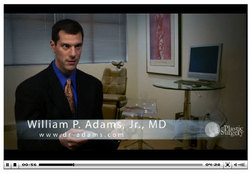 One of my priorities is patient education, and a lot of the programming currently out there is either uninformative or misleading. The Plastic Surgery Channel is committed to giving viewers the objective, truthful information they really need
Dallas, TX (PRWEB) April 29, 2009
Cosmetic surgery is no longer the bastion of the wealthy or famous. Advances in technology have made procedures more affordable and effects appear more natural. As a result, men and women of every age who want to look and feel their best are opting for plastic surgery.
The Plastic Surgery Channel (http://www.ThePlasticSurgeryChannel.com), a new online television network, aims to provide prospective patients with information and entertaining educational programs ("edutainment") on cosmetic and reconstructive surgery. All shows are streamed in broadcast quality HD video, and because the network is offered online, viewers can tune into programs 24/7 to find information and insight wherever they are.
Founded by Dallas-based entrepreneur and Internet Protocol Television (IPTV) expert Craig Thompson and renowned plastic surgeon Dr. William P. Adams, Jr., the network aims to counteract the hype and hyperbole about plastic surgery found on cable television and help prospective patients make informed decisions to prepare for the initial consultation with the surgeon of their choice. The network also supports surgeons by providing accurate information to consumers considering plastic surgery.
"One of my priorities is patient education, and a lot of the programming currently out there is either uninformative or misleading. The Plastic Surgery Channel is committed to giving viewers the objective, truthful information they really need," says Dr. Adams, an international breast augmentation expert who regularly presents at peer conferences. "Evidence also indicates that well-informed patients have a higher degree of satisfaction due to more realistic expectations, and these patients tend to be more likely to follow their surgeon's directives for pre-and post-operative care," he adds.
Notes Thompson, "One of the reasons I was so excited about working with Dr. Adams in creating the network is because he not only brings tremendous medical industry expertise to the project, but he is also very Internet savvy and understands the benefit to the viewers of providing programming online." Thompson also founded the Weight Loss Surgery Channel last year.
The Plastic Surgery Channel will debut at the Aesthetic Meeting of the American Society for Aesthetic Plastic Surgery in Las Vegas, Nevada on May 2-7, 2009. Dr. Adams will be a featured speaker at the conference, presenting on plastic surgery advances and techniques.
In addition to a weekly newscast hosted by Lindsay Hall, The Plastic Surgery Channel offers an ever-expanding library of Patient Education videos with renowned reconstructive and cosmetic surgery experts, as well as informative and easy-to-understand articles on more than 40 cosmetic procedures. Network executives are currently developing a roster of feature programs, and the channel will debut shows throughout 2009 to increase the value to consumers and surgeons.
The Plastic Surgery Channel is not meant to replace the advice of medical professionals. Viewers are reminded to always consult a medical professional before making any decisions about cosmetic surgery or any other medical procedure.
About The Plastic Surgery Channel
The Plastic Surgery Channel (http://www.ThePlasticSurgeryChannel.com) is the world's first television network with programming solely dedicated to issues concerning cosmetic and reconstructive surgery. In addition to a growing library of informative articles on dozens of cosmetic surgery procedures, the network provides entertaining educational programming via broadcast-quality online video, 24 hours a day for viewers worldwide. The Plastic Surgery Channel is owned and operated by The Plastic Surgery Channel, LLC, based in Lewisville, Texas.
###