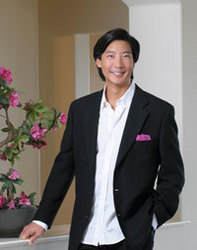 The liquid facelift really takes years off your face within only weeks of treatment.
San Diego, California (PRWEB) October 9, 2009
Facial wrinkles are part of life's inevitable aging process caused by loss of collagen, subcutaneous fat, bone resorption, and thinning of the skin. Further accelerating the process is a combination of factors including stress, smoking, sun exposure, and genetics. These conditions lead to drooping of the eyebrows, hollowing of the temples, excess skin on the upper and lower eyelids, flattened cheeks, thinner lips, and jowls forming on the lower jaw. Facelifts have long been the established procedure to turn back the clock on these effects. Because of the cost and recovery time, traditional facelifts have become impractical for many candidates.
San Diego Plastic Surgeon, Dr. Gilbert Lee, has developed the Changes Liquid Facelift which can sometimes produce similar results as a traditional facelift without the cost and recovery time of surgery. The new liquid facelift uses Sculptra Aesthetic®, an injectable poly-L-lactic acid (derived from natural components) intended to restore collagen lost over time and assist in the revival of collagen in thin skin areas due to aging. "Sculptra is unlike any other product on the market in that it stimulates the body to regrow collagen that has been lost to aging", says Dr. Lee. The onset is gradual, so there are no sudden drastic changes, and the effects last years. Sculptra may be combined with a personalized treatment of Botox® or Dysport®, laser treatments, or other fillers such as Juvederm®, Restylane®, or Radiesse® to restore a face to a natural, more youthful look.
"Sculptra has opened up new options in treating facial aging without surgery," says Dr. Lee. "The liquid facelift really takes years off your face within only weeks of treatment." A treatment regimen of Sculptra Aesthetic®, an average of three injection sessions over a few months, has been shown to help correct facial lines and wrinkles by replacing lost collagen over time to provide noticeable results that can last two years or longer. The Changes Liquid Facelift can also be used to touch up a facelift result and prolong the effects of a facelift. Sculptra Aesthetic® is made from poly-L-lactic acid, which has been safely used for the past 25 years in resorbable stitches. It is biocompatible (a material that does not harm the body) and biodegradable (able to be broken down by the body).
Injectable poly-L-lactic acid has also been widely used in Europe for close to a decade for cosmetic treatment.
Dr. Lee, recently featured on the Oxygen Network, Bravo, and NBC 'Access Hollywood' show for his role in the hit series 'Addicted to Beauty', is an Advanced Trainer for Sculptra injection technique and trains other physicians around the country in the Changes Liquid Facelift. Dr. Lee has been recently voted one of the "Top Doctor" in Plastic Surgery in San Diego and La Jolla by his plastic surgery peers in the San Diego County Medical Society. This is the third consecutive year that Dr. Lee has received this prestigious award.
Changes Plastic Surgery & Medical Spa was founded in 1994 by Board Certified Plastic Surgeon, Dr. Gilbert Lee with a concept that the blending of artistry, precision, technology and advanced skin care can be provided under one roof in a comprehensive and integrated plastic surgery practice. Since that time Dr. Lee has developed an excellent reputation in the field of plastic surgery.
Dr. Gilbert Lee is a Diplomate of the American Board of Plastic Surgery and a Member of the American Society of Plastic Surgeons. Featured in the media and in many medical journals, Dr. Lee receives referrals from all over the United States as well as internationally. His work has been featured weekly this summer on Access Hollywood, Bravo, and the Oxygen Network. For more information, go to ChangesPlasticSurgery.com.
###