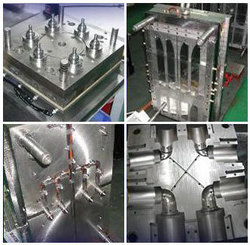 We want to built up an ideal business structure in order to bring the best molds to clients. By working with local agency and local mold maker (backing up for quick service), we are very positive in potential market development in the next few years
Taiwan (PRWEB) March 2, 2009
In the highly competitive molding industry, manufactures around the world swarm the market with dazzling claims and guarantees. As the vanguard in the field of plastic molds & rubber molds, Intertech stands out from the rest through solid teamwork and leading production technology, providing 100% Taiwan-made molds with premium quality. Intertech focuses on teamwork and partnership in order to create the maximum benefits for both clients and consumers. Cooperating with team vendors in Taiwan and outside global agencies, molds from Intertech have roots in international markets along with highly integrated service.
After the Success in Scandinavia, Intertech Looks Forward to More Local Agencies Worldwide:
"What Intertech would like to achieve in the coming year is to cooperate with more local agencies and international molding companies, especially those who need mature molding & mold making techniques in OEM and ODM aspects," said Intertech CEO, Debby Hsien. Cooperating with local agency in Sweden successfully assisted Intertech to explore markets in Scandinavia. Intertech has been supporting various Swedish companies, including the largest shop-display equipment provider, HL Display AB, and the water treatment solution supplier, Purus AB.
Combining distinctive techniques such as two-components injection molding, and prompt after-sale service through local representatives, Intertech is able to distinguish itself from ordinary mold makers, providing in-time assistance to European markets. Presently, Scandinavian countries including Finland, Denmark, Netherlands, and Sweden occupy around 30~40% of Intertech's total exporting value.
Intertech Pioneering Mold Making Techniques: Plastic Injection Mold, LSR Mold, Interchangeable Core Mold, Collapsible Core Mold & 2K Mold:
Cutting edge mold making techniques are the defining factor in choosing Intertech as the ideal mold supplier for many clients. Intertech's comprehensive mold making line ranges from plastic injection molds, die casting molds, silicone rubber molds, LSR molds, rubber molds, to press molds. Among the variety, plastic injection molds and LSR molds are the prominent technical features of Intertech. Plastic injection molds can be divided into thermoforming and thermosetting, according to its processing methods. In the current market, the majority of suppliers are incapable to support thermosetting molds due to incomplete manufacturing equipments or immature technique. Being sensitive to market demands, Intertech seeks qualified team vendors from Taiwan to make up for the vacancy. Both urea molds and bakelite molds can be custom ordered from Intertech.
On the other hand, the liquid silicone rubber mold (LSR) is also an unique molding skill of Intertech Machinery Incorporation. Main applications of LSR molds are diving equipments, baby nipples, medical items, sporting goods, and products that will directly contact the human body. Due to its applications, the standard for LSR mold is higher than ordinary silicone rubber molds, requiring finer FDA qualified material and better manufacturing conditions. Intertech has been supplying diving equipment and medical products to various clients in the past decades. With abundant experience in the field, LSR molds serve as the niche market that helps Intertech to embrace a wider market.
Other compelling features of Intertech is pilot molding & interchangeable core mold making designed for series production. The adopting pilot mold is not only swift and efficient, but also cost-effective. For example, by using only two sets of pilot molds with interchangeable cores mold design, clients can manufacture 32 different types of water treatment products of the same series. This assistance greatly reduced the burden of opening up individual mold for each type. Such skill is suitable for projects with limited mold making budget, small or medium quantity need, but has high variation demand.
Intertech is proficient in 2K mold, collapsible cores, and big mold lathing as well which are cost-saving molding methods and efficient in terms of cycle time. Intertech can manufacture one mold with two color injected mold structure designs, without the need to produce two molds or rotate two times. Collapsible cores are applicable in pipe fitting mold, and the big mold lathing is especially ideal for large lightening equipment. Intertech is capable of machining huge round-shape mold with lathe machine; the diameter can reach up to one meter. Employing a wide variety of leading skills from thermosetting, LSR mold making, interchangeable core mold, collapsible core mold, to 2K mold, Intertech has gained a seat in international mold making market.
Solid Team Work Contributes to Cutting Edge Molds:
With various mold making partners in Taiwan, Intertech serves as an one-stop purchase spot for mold making solution. Very often, mold manufacturers may be able to offer prototyping and accept custom orders in order to survive in the industry. However, there are very few like Intertech that can satisfy such comprehensive mold making ranges, and at the same time provide pioneering mold making techniques and in-time assistance both in after-sale service and technical support. Utilizing current mold making levels in Taiwan, Intertech is able to offer service from mold design, prototyping, mold making, manufacturing process control, reverse engineering, custom molding & assembly, to virtually any request from clients. As the result, Intertech can supply their upper-end products to end-users and global molding companies in diverse fields.
In automotive, tele-communication, hardware, medical, and engineering industries, Intertech has served various brands including Ford, Toyota, Nokia, Sony, Verhoeven, Easterway, MCM... etc. in the past five years. "We want to built up an ideal business structure in order to bring the best molds to clients. By working with local agency and local mold maker (backing up for quick service), we are very positive in potential market development in the next few years," commented CEO Debby Hisen.
From June 22-26, Intertech will be exhibiting at NPE 2009, welcoming all business partnership. For local mold maker and agencies looking for global-cooperating mold suppliers in Taiwan with upper-end skills and service, grasping the chance to meet Intertech Machinery Incorporation via the annual event in Chicago, IL, U.S.
Contact Information
Company Name: Intertech Machinery Incorporation
Contact Person: Debby Hsien
Address: 7F, No. 122, Zhong-Zheng Rd., Shilin District, Taipei, 11145 Taiwan
Tel: 886-2-28334646
E-mail: intertech (at) seed.net.tw
Company Website: http://www.intertech.net.tw
Please visit allproducts.com Press Room for further information.
###