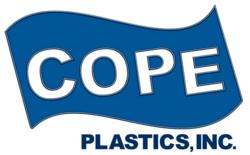 Alton, IL (PRWEB) May 30, 2013
Jane Saale, President and C.E.O. of Cope Plastics, recently attended the 40th Annual European Plastics Distributors Association Conference in Florence, Italy. Saale attended the conference as the President of IAPD (International Association of Plastics Distributors), promoting plastics globally, and helping to increase the awareness of the positive aspects of plastics worldwide.
Saale presented the conference with IAPD's five strategic priorities for the coming year:
1. Promote distribution as the way to market and engage distribution to become a unified force in the global marketplace and promote best practices – which many ultimately lead to accreditation of best practices.
2. Expand the awareness, consideration, acceptance and the use of plastics in the top 24+ markets identified by our members.
3. Grow membership: (1) retain members; (2) promote engagement of membership; (3) attract new members.
4. Proactively defend the environmental perception of plastic and educate legislators/regulators on the facts about plastics.
5. Prepare and train plastics distributors on properties, benefits, applications and lifecycle of plastics.
Cope has been an active member of the International Association of Plastics Distribution since 1958.
About Cope Plastics
Cope Plastics is the premier distributor and fabricator of plastic sheet, rod and tube across the Midwest delivering solutions to our valued customers since 1946. The company is proud to be a certified Women Owned Business by the NWBOC since 2012. Visit us at http://www.copeplastics.com .
About The European Plastics Distributors Association (EPDA)
The European Plastics Distributors Association (EPDA) is a membership organization committed to promoting distribution as the preferred path to market for semi-finished plastic parts. Established in 1973, EPDA's members are the owners, CEOs, directors and top executives of Europe's top manufacturers and distributors of plastic sheet, blocks, rods, profiles, tubes, pipe, valves and fittings.
About The International Association of Plastics Distribution (IAPD)
The International Association of Plastics Distribution (IAPD), established in 1956, brings together manufacturers, distributors, manufacturers' representatives and service providers in an environment which encourages a free flow of ideas and information that help members build their businesses. Every program and service we provide is designed with the simple goal of helping our members increase profitability.