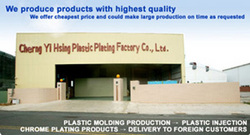 For CYH, stringent quality control will be taken to the very last detail while we come up with products that promise high-added values to meet customer demands
(PRWEB) May 14, 2008
As a commitment to high quality, competitive prices, prompt delivery and integrated service, Cherng Yin Hsing (CYH) never stops improving itself to achieve the best performance possible, and pro-actively visits international trade shows to seek more business opportunities.
With forty years experiences in plastic plating, Cherng Yi Hsing Co., Ltd. (CYH) started its first POP electroplating line in 1969, advancing its service to plastic injection, molding, automatic electroplating and multi-layer nickel plating.
Up to the present, CYH offers a wide range of finished products, including automotive parts, automotive decorative boards, bumpers, lampshades, radiator front decorative boards, rear view mirrors, rims, motorcycle parts and bathroom accessories. In particular, it has long-standing cooperation with Tong Yang Industry Co., Ltd., a well-known vehicle parts manufacturers in Taiwan. CYH has assisted customers on plastic chrome plating for years, which gives it a great reputation and record of reliability. Moreover, its OEM service has been known in North America and Europe.
"We always think of the best interests of customers and understand what they need. Once receiving the sample, we make our promise to fulfill customers requirements and match the products accordingly," Mr. Yen Ching Wang, General Manager of CYH, said.
CYH's integrated operation includes mold making and design, ABS plastic injection, chromium electroplating, multi-layer nickel plating, polish, powder coating and finishing. Customers can also benefit from continuous discussion with the technical team during the plating process.
In an effort to achieve high-efficiency service, CYH pays serious attention to factory management: its three large-scale factories conform to the ISO9001 norm, ISO17025 and TS16949 standard, and are armed with automatic electroplating equipments. They adequately support mass production and ensure on-time goods delivery.
In particular, using the latest plating technology facilities of the Multi-layer Nickel Plating Process and complying with quality-control standards, CYH is able to produce various sized products such as small accessories, signs and automotive large formed components (maximum 320cm in length). In order to satisfy customer needs, CYH continues to offer different plating services, including process plastic injection, molding design, ABS plastic plating, ABS+PC plastic plating and flame-retardant ABS plastic plating.
"For CYH, stringent quality control will be taken to the very last detail while we come up with products that promise high-added values to meet customer demands," Mr. Wang said.
CYH conducts Quality Inspections, include Plating Thickness Measurement Test, CASS Resist Test, Microscope and Pore Count Check. Therefore, finished plating products are guaranteed to be rust-proof, and feature strong adherent qualities, no spots, blister, pin holes on the surface, no burns and have no appearance of roughness.
Moreover, in terms of addressing increasing environmental concerns, the CYH industrial wastewater treatment system also complies with environmental regulations.
"Following effective management system, our team has sufficient experiences in plastic injection and plastic plating operation, and every new employee is trained to be conversant with technical instruction and procedure in detail," Mr. Wang said proudly.
Looking forward to more opportunities not only in North America but the European market in future, CYH has started to visit international trade shows to meet potential customers. As Mr. Wang said: "Our high-quality plating makes us not worry about competition. All customers are welcome to contact us and compare the price before making a purchase."
###