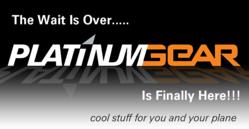 Our customers have been asking about Platinum Aviation branded apparel for sometime. Now with Platinum Gear™ they can show everyone that they are proud, Platinum pilots, said Alfredo Cortellini, Platinum's President,
Fort Lauderdale, FL (PRWEB) June 21, 2011
Platinum Aviation has launched an online store, Platinum Gear™, as the official source for Platinum Aviation branded merchandise, Platinum flight training materials, pilot supplies and aircraft products. Platinum Gear features high quality apparel for men and women by Cutter & Buck and Nike, all featuring the Platinum Aviation logo.
Pilots beginning their flight training, seeking additional ratings or transitioning into the Cirrus Aircraft can find complete training kits specific to the course they plan to undertake or the aircraft they wish to fly. Platinum Gear™ accepts all major credit cards and ships throughout the continental United States.
Platinum Gear™ is a Platinum Aviation Holdings company. Platinum Aviation Holdings is a South Florida based family of companies dedicated to serving the needs of the newest Technologically Advanced Aircraft market. Platinum was originally founded as a unique flight training facility to train those that only wanted to learn to fly the latest, best-equipped aircraft available and learn from flight instructors that were the best in the industry. That original concept has grown into a full service company that now includes the largest network of Cirrus flight training centers, a large fleet of Cirrus Aircraft rentals, a factory authorized Cirrus Service Center, aircraft sales and brokerage, an aviation related film and video production company and now an online store. Platinum Aviation has locations at Ft. Lauderdale Executive Airport, Miami's Opa Locka Executive Airport and coming September 2011, West Palm Beach, Florida. Visit the company's website http://www.flyplatinum.com for more information.
###