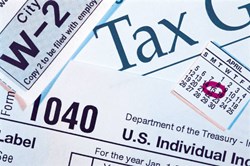 Los Angeles, California (PRWEB) May 28, 2013
According to USA Today, the IRS has investigated almost 1,500 cases of identity theft that made it past their security measures since October 2011 (forbes.com/sites/janetnovack/2013/01/29/irs-tips-wont-protect-you-from-identity-theft-tax-fraud/). According to the IRS, $20 billion of attempted identity theft via tax return has been repelled since fiscal year-end 2012, so that's not a bad rate of exchange. Or is it? For those struggling with issues of back taxes or with current Offers in Compromise, Platinum Tax Defenders encourages taxpayers to double-check all returns sent to the IRS, and suggests that it may be worthwhile to look into getting help via tax resolution services, since identity theft issues can cause delays or unwelcome confusion during complicated interactions with the IRS.
The IRS also says that there has been significant progress in collaboration efforts with law enforcement officials, and efforts to stem the tsunami of identity theft cases. The Identity Protection PIN program has been implemented to keep prior victims of identity theft from experiencing the same issues and losses, but the sheer number of prior cases issued to victims (770,000) is staggering.
As of October 2012, over 650 criminal cases have been opened. Those convicted with identity theft may spend between four to 20 years behind bars. In fact, an April 2012 pilot program begun in Florida was successful enough to warrant the inclusion of an additional 8 states, and seems to have gotten results. As of January 2013, the IRS began with over 730 actions and ended in a 40% arrest and indictment rate (298).
However, in 2012, the Treasury Inspector General for Tax Administration (TIGTA) went on record with Congress to say that the IRS takes too long to resolve identity theft cases, that victims are subject to a long and complicated process that is unhelpful. The official title of the May 2012 report was "Most Taxpayers Whose Identities Have Been Stolen to Commit Refund Fraud Do Not Receive Quality Customer Service"(treasury.gov/tigta/auditreports/2012reports/201240050_oa_highlights.pdf). IRS guidelines and procedures for identity theft cases are scattered throughout 38 sections of the internal manual, and victims are often forced to wade through a paper trail for resolution, which can take up to a year. USA Today seems to indicate that cases like Angela Beasley's are not unusual, in which she sent in a police report and an affidavit, and still could not finalize education plans because the thief was still registered in her name.
Beyond taking the normal precautions of shredding former-year tax returns and refusing to give out your Social Security number (except when necessary), USA Today suggests not engaging in personal banking or sensitive transactions while on a smart phone in public. However, by the time identity theft reaches a tax return, damage has already been done. The same report reported a $200 million haul by an underground ring of credit card thieves, that lasted over the course of years. Security measures weren't enough to stop over $20 billion being stolen from over 12 million Americans, per a Javelin Strategy report, or one person victimized every 3 seconds - nearly 6% of all American adults.
Even though law enforcement officials are cooperating with the IRS nation-wide (1,560 waiver requests have come in to the IRS already), and the IRS says it has closed over 200,000 cases this year, more cases replacing those that are closed. Platinum Tax Defenders encourages cooperation with the IRS, for those who have become identity theft victims, but also suggests that another layer of protection may not hurt. Obtaining help from a tax relief service or a tax resolution firm may especially be helpful in speeding up the resolution process, if the firm has a skilled tax attorney on hand. Back tax issues can be especially complicated, and the IRS can cancel a payment plan or Offer in Compromise if steps aren't met quickly enough, or paperwork falls through the cracks. Delays and cancellations for back taxes can make a great difference in payment resolution, and penalties.
Platinum Tax Defenders has a dedicated team of 10 professionals (including tax attorneys, CPA's and former IRS agents) with a ten-year track record of stopping bank levies and removing tax liens. Most initial consultations range from 20 to 45 minutes, in which a qualified tax resolution professional can examine the specifics of the situation and offer strategies for dealing with the IRS.
For more information from Platinum Tax Defenders on stopping property seizure and getting help with back taxes, call 1-877-668-1807 or send an email to info(at)tax-resolution(dot)me.