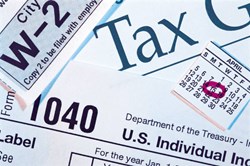 Platinum Tax Defenders helps business owners and individuals to take advantage f every tax credit available to them
(PRWEB) February 21, 2013
Platinum Tax Defenders: many small businesses, self-employed individuals and independent contractors risk paying higher taxes due to lack of knowledge about tax credits they are eligible for, or not being updated with the recent changes. In the same way that 25% of low-earning taxpayers miss out on the Earned Income Tax Credit, according to an article published by New York Daily News (A Fuller Picture in the Small-Business Tug of War by: TRIP GABRIEL), small business owners are often too busy to research complex regulations of credits which could result in refunds. In June 2012, the Wall Street Journal reported that more than 65% of surveyed small business owners did not know whether or not they qualified for a healthcare tax credit made available in 2010. Platinum Tax Defenders offers tips on relatively unknown tax credits, and suggests that professional tax resolution services may also be helpful in minimizing the cost of back taxes and avoid missing credits they are entitled to, and taking advantage of these credits can be a step towards tax relief for taxpayers suffering from back taxes and other tax related issues.
Out of the expected "millions" of small businesses with fewer than 25 full-time employees eligible for the health care tax credit, the Government Accountability Office says that a mere 170,000 applied for the credit. The Small Business Majority cited lack of awareness in half of polled business owners about certain tax credits. Owners of companies grossing between $1 million and $20 million indicated that lack of awareness factors certainly included the strain of paperwork and low time-to-benefit ratio.
The Earned Income Tax Credit (EITC), aimed toward low-income earners, can sometimes apply to small business owners or self-employed contractors who file a Schedule C on their personal income tax return. New York Daily News pointed out that EITC lack of awareness could cost taxpayers between the average deduction of $2,200, and the maximum tax credit of $5,900. The IRS has even set aside an EITC Awareness Day, which underlines the public's lack of knowledge about existing tax breaks.
Sherri Gastelum, the president of Platinum Tax Defenders also points out that the Other nearly unknown tax credits include the new markets tax credit, the credit for railroad track maintenance, the 15-year improvements credit for leaseholds and restaurants, the deduction for charitable giving of food inventory, and the many energy-efficient credits. The New Markets Tax Credit is geared toward the real estate development and improvement of areas suffering from a 20% poverty rate, and has existed since the year 2000 with little public knowledge. The Food Inventory credit only applies if the food is consumable by humans, is used for the needy, and not to be traded for cash value or in payment for services rendered.
Since qualifications and regulations can be quite confusing, Platinum Tax Defenders urges self-employed taxpayers, especially those with back tax issues, to consider a tax resolution specialist for help. Payment plans, collection appeals and an Offer in Compromise can be the best solution for business owners struggling under delinquent taxes from prior years, but like the tax credits, it is sometimes easier to be disqualified than to qualify.
Platinum Tax Defenders has a dedicated team of 10 professionals (including tax attorneys, CPA's and former IRS agents) with a ten-year track record of stopping bank levies and removing tax liens. Most initial consultations range from 20 to 45 minutes, in which a qualified tax resolution professional can examine the specifics of the situation and offer strategies for dealing with the IRS.
For more information from Platinum Tax Defenders on stopping property seizure and back tax help, call 1-877-668-1807 or visit http://tax-resolution.me/.