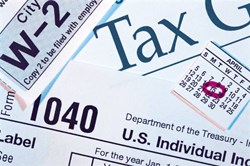 Platinum Tax Defenders helps business owners and individuals to take advantage f every tax dredit available to them, 1-877-668-1807
Los Angeles, California (PRWEB) April 16, 2013
Besides last-minute tax panic, there's a quite legitimate way to qualify for tax relief – experience in storms. Victims of flooding, mudslides, and other severe storm effects in an officially named "federal disaster area" can qualify for tax relief, says the IRS. (Normally, not filing taxes or an extension request is an automatic 5% penalty payment per month, with an additional .5% monthly fee, besides interest fees on the amount due.) In 2012, this meant the West Virginia area. In 2013, those still needing to file 2012 taxes from the South and Midwest may be eligible, depending on the area. Platinum Tax Defenders encourages storm victims to file taxes as soon as possible, and suggests that those needing back tax help may want to speed up the process by finding a tax resolution firm to negotiate a reduced payment.
Not too long ago, Hurricane Irene and the Texas wildfires were the disasters that newscasters couldn't stop talking about. Now, reports are streaming in about snowstorms in Minnesota and North Dakota. According to KSFY, North Dakotans can file state taxes at any point this week, and those from Minnesota (or business owners with that address) are allowed until April 19th to send in paperwork for the state. The IRS has offered to abate or waive penalty fees, both late-filing and ongoing, for victims of storms. The difficulty can be in the wording: "reasonable cause" and "reasonable time".
The IRS requires a reasonable cause (a storm that disrupts normal operations and document-gathering) and a reasonable time frame for victims of storm damage to file their taxes. Unfortunately, the IRS does not waive interest on unpaid balances, but because storms are so damaging, it's possible for a tax resolution firm to use the storm as a negotiation point for a reduced tax liability.
Forbes ran an article in late 2012 about Hurricane Sandy victims. Certain areas seemed almost as affected as those who suffered through the Japanese tsunami of March 2011, with sea vessels carried inland and deposited on top of houses. The advice for storm victims, regardless of area, is to pay attention to the details. Take pictures, keep receipts for repairs, make sure your area is named a federal disaster zone, and register with FEMA (1-800-621-3362). Zones for this year include certain parts of Mississippi, Oklahoma, Maine, Connecticut, Rhode Island, New Hampshire, Louisiana, and the Cherokee Nation territory.
Of course, the last thing that storm victims may be thinking about is taxes, but both interest and penalties add up. It's also good to know that even if taxes are mis-filed – or if the distributions of your qualified disaster recovery assistance were improperly allocated over the allotted three years – it's usually possible to file amended returns. Since IRS rules governing assistance programs can be sticky, Platinum Tax Defenders encourages disaster victims who filed late, or have back taxes, to research tax resolution services. These might be especially helpful in cases where victims have already been sent penalty notices, as described in Accounting Today.
Platinum Tax Defenders has a dedicated team of 10 professionals (including tax attorney s, CPA's and former IRS agents) with a ten-year track record of stopping bank levies and removing tax liens. Most initial consultations range from 20 to 45 minutes, in which a qualified tax resolution professional can examine the specifics of the situation and offer strategies for dealing with the IRS.
For more information from Platinum Tax Defenders on stopping property seizure and getting help with back taxes, call 1-877-668-1807 or visit http://tax-resolution.me/