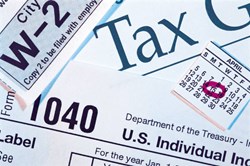 Platinum Tax Defenders helps business owners and individuals to take advantage of every tax dredit available to them, 1-877-668-1807
Los Angeles, California (PRWEB) April 18, 2013
Sherri Gastelum: Living and working overseas has become the norm for a growing number of global citizens. In 2009, the IRS estimated that up to 7 million Americans are residents of another country, not including those serving in the military. One of the difficulties faced by residents of another country who retain their original passport is what to do when tax time comes. Platinum Tax Defenders offers tips on dealing with taxes while living overseas, and suggests that a tax resolution firm with an on-staff tax attorney can make transitions and tax relief a much smoother process.
The first thing to realize is that taxes must be paid – the question is, how much. Some have erroneously assumed that keeping earnings in an overseas bank account meant that taxes could not be assessed. According to PBS, the International Consortium of Investigative Journalists (ICIJ) is a force to be reckoned with. Apparently, there are 86 journalists from more than 45 countries working together to uncover hidden offshore bank accounts. It turns out that 170 countries are under investigation by journalists, because of the possibility that the owners of 120,000 accounts may be trying to avoid a hefty tax bill. The director of the ICIJ, Gerard Ryle, says that the account owners of those keeping back tax payments tend to be a smattering of the "moderately wealthy" along with the "super-wealthy". As he points out, there's nothing intrinsically illegal about holding an offshore account or developing an offshore business, so long as the owners are transparent within legal limits.
Second, some Americans are deciding to become expatriates, because of unfair tax laws. Time World used Tina Turner as a practical example of a resident wanting citizenship, since Turner wants to become Swiss after living in Zurich for many years. However, other Americans are giving up their passports and citizenship for a different reason: "The U.S. is the world's only industrialized nation that taxes citizens who live overseas, even if their income is generated in a foreign country and they never return to America." One Platinum Tax Defenders specialist put it like this: "That's one option, but it's important to remember – before paying a $450 non-refundable fee – that any income under $97,000 doesn't have to be double-taxed. Changing your passport is like getting a gastric bypass to lose weight, you're never getting that part of your gut back."
According to Investopedia, it's important to declare any assets held in foreign countries over $50,000, and possibly file Form 8938. This is especially important in light of some new (and some say, frustrating) measures by the IRS to protect themselves against fraudulent exclusion of taxable income: the Foreign Account Tax Compliance Act. This requires foreign banks to report on American citizens' accounts, and allows for stiff fines in the case of Americans residing overseas who don't report foreign bank accounts with balances at $10,000 or above.
Another idea might be to simply retire abroad in a low-tax country, suggests US News Money. There's no current tax on retirees' Social Security income in these countries: Belize, Costa Rica, Ecuador, Panama, Malaysia, and Uruguay. It's even possible to go to Asian countries such as Thailand, keep income sources at other locations, and still live at a low level of taxation. However, Sherri Gastelum reminds taxpayers of any country that laws can change. It's a good idea to run a strategy past a tax attorney, or a tax resolution office, to spot holes that others have had to pass by the Tax Court later on, such as the PPL Corporation v. Commissioner case, in which an energy company thought it was a good idea to claim a foreign tax credit for a UK "windfall tax". Also, according to Investopedia quoted above, it takes up to 10 years for those who renounce American citizenship to get out from under IRS rules.
Platinum Tax Defenders has a dedicated team of 10 professionals (including tax attorney s, CPA's and former IRS agents) with a ten-year track record of stopping bank levies and removing tax liens. Most initial consultations range from 20 to 45 minutes, in which a qualified tax resolution professional can examine the specifics of the situation and offer strategies for dealing with the IRS.
For more information about tax resolution from Platinum Tax Defenders on stopping property seizure and getting help with back taxes, call 1-877-668-1807 or visit http://tax-resolution.me/ .