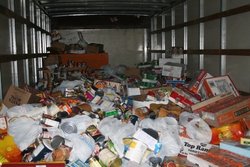 We are so grateful to Platinum for their hard work last weekend
(PRWEB) December 15, 2008
Provo, Utah -- Friday night, nearly 400 representatives from Platinum Protection canvassed the Wasatch Front, but not to sell security systems. This time, they were using their skills to gather food for local food banks.
"We have broken the record the last two years as the fastest growing alarm company in the history of our industry by knocking doors," said Jeremy Pixton, a co-owner of Platinum Protection. "This time the record we wanted to break was giving back to those that are in need and doing it by knocking doors. We felt this was a good opportunity to teach our employees the value of giving back."
Friday night's effort broke the record for the largest one-day, door-to-door corporate food drive, bringing in a grand total of 34,000 pounds of food.
The donations will go to the Community Action Food Bank in Utah County and the Utah Food Bank in Salt Lake County.
"We are so grateful to Platinum for their hard work last weekend," said Myla Dutton, Executive Director of Community Action Services and Food Bank, the food bank serving Utah, Summit and Wasatch Counties. "We hope to see more businesses get involved this way in the future."
Sales representatives, technicians and corporate employees from Platinum Protection all participated in the event. They went door to door in Salt Lake, Utah and Cache Counties thanking the community for their past donations and providing another opportunity to give.
They loaded all the food donations into trucks and trailers and then met up at Thanksgiving Point in Lehi. From there, the workers took the food to the food banks.
"It was a great opportunity for the company to do some service," said Andres Sosa, a Platinum employee who participated in the food drive. "It just blew my mind to see the amount of food we brought in. It was also great to see how many people were willing to donate."
About Platinum Protection: Platinum is a GE Security authorized dealer. To find out more about Platinum Protection security products and services, please visit http://www.PlatinumProtectionSecurity.com.
###