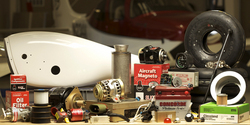 Our goal is to keep our customer's aircraft in the air, with the least downtime as possible. Our large, Cirrus parts inventory can help do that and eliminate expensive overnight shipping expense, said Alfredo Cortellini, President - Platinum Aviation
Fort Lauderdale, FL (PRWEB) February 24, 2010
Platinum Aviation Service is a full service aircraft maintenance facility offering inspections, repairs and maintenance for the general aviation fleet, specializing in the newest generation of Technologically Advanced Aircraft and the Cirrus Aircraft in particular. Platinum now stocks most parts required for all generations and models of Cirrus Aircraft in it's large, in-stock Cirrus Aircraft parts inventory.
"Platinum's goal is to keep our customer's aircraft in the air, with the least downtime as possible. Our large, in-stock Cirrus Aircraft parts inventory can help do that and eliminate expensive overnight shipping expense," said Alfredo Cortellini, President of Platinum Aviation Service.
Platinum Aviation Service is a Platinum Aviation Holdings company. Platinum Aviation Holdings is a South Florida based family of companies dedicated to serving the needs of the newest Technologically Advanced Aircraft market. Platinum was originally founded as a unique flight training facility to train those that only wanted to learn to fly the latest, best-equipped aircraft available and learn from flight instructors that were the best in the industry. That original concept has grown into a full service company that now includes flight training, aircraft rental, aircraft maintenance and an aviation related film and video production company with locations at Ft. Lauderdale Executive Airport and Miami's Opa Locka Executive airport.
###