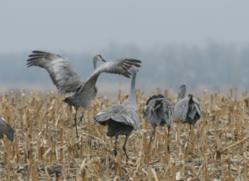 "The crane migration was phenomenal and "sound" is so important, so inspiring..." Platte River Birding Tour participant D'Ann Brock
Lincoln, Nebraska (PRWEB) December 21, 2012
Naturalist Journeys, a top Nature Tour Company, is proud to announce their upcoming Nebraska Platte River Guided Birding Tour of the famous Sandhill Cranes. Expert birding tour guides Ed and Sil Pembleton have been traveling to see the annual Sandhill Crane migration on the Platte River of Nebraska since 1968. From March 11 to March 17, 2013, bird watchers can join them on Naturalist Journeys' upcoming birding and nature tour, named "Platte River Cranes & Prairie Chickens: to view one of North America's greatest wildlife spectacles.
Each year, guided birding and nature tour participants have the chance to witness half a million Sandhill Cranes as they descend upon the Platte River. By March, 80% of the world's population crowds a 150-mile stretch, the largest gathering of cranes anywhere in the world! Here they rest and feed before continuing on to breeding grounds in Canada, Alaska and Siberia. Among the cranes are a few of their endangered cousins, Whooping Cranes, and over 10 million ducks and geese, bright in breeding plumage.
For a complete tour itinerary, go to -

Expert Guides Lead this Nebraska Bird-watching Tour
"Our first trip to see the cranes was in 1968," says Ed Pembleton, scheduled to guide this Platte River birding and nature tour along with his wife Sil. "At the time, there were no nature centers, interpretive signs or local people that could tell us much about the birds. We began driving roads to see where the birds had gone and what they were doing. Our explorations soon indicated that birds stayed within 2-3 miles north or south (preferred) of the the Platt River. That first year, sunset came and we were absolutely amazed — the hook was set. What a sight!"
"Since that first trip, we have made the rendezvous with the cranes an annual event with only four exceptions as best we can recall," Pembleton continues. "Since 1980, when I joined the National Audubon Society staff, we have only missed once. The first seven years that I worked for Audubon, we helped organize and run the field trips for the annual River Conference. During that period, I think we developed a second attachment — sharing the cranes with people. We're both teachers and helping people connect with the birds and realize how important that habitat is to their continued existence just touches your soul. My mantra as a professional conservationist and birding tour guide is that it takes three steps: know, love and defend. An introduction to cranes on a Platte River birding and nature tour each spring guarantees the first two and made the third one almost automatic."
More on Platte River Cranes & Prairie Chickens Birding Tour, March 2013 -
A highlight of this journey is a chance to visit the famed Audubon Rowe Sanctuary. Naturalist Journeys has reserved blinds at Audubon's Rowe Sanctuary for their Platte River birding tour participants, for prime views of the cranes in areas along the river's edge. With an expert crane naturalist from Audubon, participants will experience the almost deafening chorus and clamor of tens of thousands of cranes taking flight toward the cornfields and prairies where they will forage during the day. After watching this exciting spectacle, guided birding tour participants take time to view the displays at the sanctuary and to watch birds at the feeders: Harris, White-crowned and White-throated Sparrows, White-breasted Nuthatches, and possibly Red-bellied Woodpeckers. We also may find Green-winged Teal or some early migrating shorebirds feeding on the river's mudflats.
Participants will also travel north to Calamus Reservoir and accommodations at the award-winning ecotourism ranch of Calamus Outfitters. There, Platte River birding tour participants will be able to witness the spring courtship rites of Greater Prairie Chickens and Sharp-tailed Grouse. By this time in March they will have started their dawn-hour dancing and booming at lek (dancing ground) display sites.
This tour is limited to 12 participants.
About Naturalist Journeys, a Top Small Group Adventure Tour Company
Naturalist Journeys specializes in small group birding tours and natural history tours of key sites across North and South America and around the world. The company's expert guides lead participants on intimate small group tour journeys for bird-watching, wildlife-watching and other forms of eco-tourism. Naturalist Journeys is a small adventure travel company that puts people, places and remarkable experiences together. Their style of environmental tourism focuses on nature — specifically birdwatching, natural history, geology and geography.