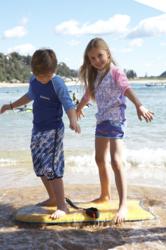 We've been at the front line for child sun safety for 17 years now and we'll never stop innovating and protecting
Sydney, Australia (PRWEB) April 22, 2013
On April 3rd the U.S. News Health site released information on the alarming rate at which children in America are developing melanoma. Although less common in kids, the report outlines how the incidence of melanoma has increased each year during the lengthy study period between 1973 and 2009. Sun-safe advocate for youngsters since 1996 and founder of Platypus Australia, Ms. Karel Wheen says of the findings, "All parents have a better chance of protecting their children against cancer by using kids UV protective swimwear, supplementing the application of sunscreen."
Many attribute beach holidays and use of tanning beds as the main causes of melanoma, the most severe form of skin cancer, while family genetics are also considered to be a factor. With the key offenders identified, a long term study concluded that the incidence of melanoma has increased amongst American children at an alarming rate of 2% per year.
With prolonged sun exposure being the primary culprit for the onset of adolescent melanoma, UV protective beachwear experts Platypus Australia are eager to advise concerned parents that their fight against cancer can be bolstered with their range of UPF50+ children's swimwear, which is the strongest UV protection available for apparel.
A long-time activist in protecting children against cancer, the Platypus Australia founder says having this information coming into public view will bring much needed attention to the increasing risk of cancer in children. She goes on to state that by "combining the application of sunscreen with our comfortable and trendy children's swimwear, which has the highest level of sun protection in each piece, parents can actively play a role in trying to reverse that growing melanoma statistic."
Platypus Australia has also recently launched their Summer 2013 range of kids beachwear, which showcases fashionable UV protective gear including items such as: sun hats, swimsuits, rash shirts and skirts, to name a few. Ms. Wheen remarks that her company's range of UPF50+ beachwear will "cover up those areas on children which are usually so fully exposed under the sun."
The ability to infuse cosiness, trendiness and sun-safety for so many years has placed Platypus Australia amongst the leaders in the industry. "Maximum UV protection and comfort are what we've always excelled in, and the best part about what we do is that kids don't even realize they're donning the highest level of sun protection all day long, because they simply love wearing our co-ordinated pieces."
The recent melanoma findings touch on the fact that re-applying sunscreen frequently along with getting kids to wear sun-smart clothing can help protect against cancer. Although the steady increase of cases has stunned many, Ms. Wheen positively remarks "It's brought the importance of sun protection to the forefront of people's minds again. We've been at the front line for child sun safety for 17 years now and we'll never stop innovating and protecting."
Platypus Australia's kids UV protective swimwear range consists of a colourful variety of pieces perfect for those family excursions to the beach or pool, including: sun shirts, caps & bucket hats, rash guards, swim shirts, swim suits, board shorts an, and more. All the company's pieces pass the strict criteria set in place by the Australian Radiation Protection and Nuclear Safety Agency (ARPANSA) and British Standard for Ultraviolet Radiation. Visit http://www.platypusaustralia.com.au to see the entire range of their UPF50+ children's swimwear.
About Platypus Australia
Since their beginnings in 1996, Platypus Australia's quality children's UV protective swimwear has spread to the UK, Europe, Asia and USA. They're export-ready garments are internationally acclaimed and in high demand since the effects of harsh ultraviolet radiation are now well known.
Platypus Australia's beachwear gives parents peace of mind knowing their children are safe, while having fun in the sun. For more information regarding their renowned product range, visit http://www.platypusaustralia.com.