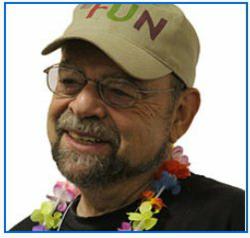 A playful path is the shortest road to happiness.
Columbus, OH (PRWEB) December 20, 2012
According to psychologist Steve Wilson, DeKoven is most notable for his landmark book The Well Played Game, for his contributions to the New Games Foundation, his pioneering work in computer game design, and for his long-running web site.
World Laughter Tour has always been devoted to finding more ways to bring more laughter to the world. "Recognizing that games and play are a powerful path to laughter, and, indeed, to happiness," says Wilson, "we have managed to persuade Bernie DeKoven, author of the Well-Played Game and long-time thought leader in innovational approaches to play, to agree to participate in our Professional Advisory Committee. With his help, we hope to make World Laughter Tour a deeper and richer resource."
"We are honored," says Wilson, to have the support and guidance of outstanding contributors to the field of laughter and humor. They are scientists, researchers, educators, and practitioners. This impressive group has been an enormous help in shaping our curriculum. And, they generously make themselves available to answer questions and offer support for the day-to-day practices of the Certified Laughter Leaders. This unique group has played a key role in our outstanding reputation, and in the development of the field of therapeutic laughter.
DeKoven designed games for Children's Television Workshop, Children's Computer Workshop, CBS Software, Time-Warner, Ideal Toys, Mattel Media, and LEGO. In 2002 he was invited to be an adjunct faculty of the Multimedia Division of the University of Southern California School of Cinema-Television. And, he has continued to conduct play workshops at the Esalen Institute in Big Sur, California, and to present his understanding of games at universities and conferences around the world.
For his "outstanding achievements in the field of fun," DeKoven was awarded the 2006 Iffni-Raynolds award from the North American Simulation and Gaming Association. He is also a lifetime member of The Association for the Study of Play.
According to Emma Seppala, PhD, Center for Compassion and Altruism Research and Education at Stanford University, "It's ironic that animals continue to play throughout their adult lives, yet we rational humans often don't. Submerged in the responsibilities of life, the seriousness of world affairs, and the demands of work, we often forget to play at all. Yet both research and the wise tell us that play is important for our mental and physical well-being."
Creating a modern scientific approach to applied and therapeutic humor began in 1964 with a report by Stanford psychiatrist Dr. William Fry, Jr., to the National Institute of Health. Fry named the infant science Gelotology to mean the science of laughter, and urged that large-scale studies of this emotive behavior would have extraordinary value.
Later, Norman Cousins, Patch Adams, and others popularized the idea that individuals might do well to include laughter and humor as allies in any healing course of therapy. During the past 30 years, Wilson has worked tirelessly to advance the work of these and many other great thinkers on the topic.
Award-winning psychologist, Steve Wilson, also known as The Joyologist and The Cheerman of the Bored, has spent 30 years specializing in applied and therapeutic humor with a humanitarian mission. An internationally recognized authority on applied and therapeutic humor, he is Director of National Humor Month (April). He intertwines science and ancient wisdom with substance and humor to lead the world to health, happiness and peace through laughter. More than six thousand people have completed his unique training in how to create therapeutic laughter, and tens of thousands more around the world have been uplifted by his talks, Webinars, classes, books, and articles. He established the World Laughter Tour, Inc., in 1998, to be a rich resource and inspiration for improving productivity, health, and well being in business, healthcare and education. For more information http://www.worldlaughtertour.com and http://www.humormonth.com.