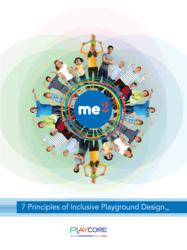 Chattanooga, TN (PRWEB) August 31, 2012
When companies and communities join together to create equitable play experiences-the good news spreads fast. PlayCore and its GameTime division joined the City of Cleveland, TN in celebrating the addition of a play space that implemented the company's 7 Principles of Inclusive Playground Design™. The Principles were created with Utah State's Center for Persons with Disabilities to foster environments that provide equitable play opportunities for children of all abilities. Representatives from GameTime, who provided the equipment through their local agency, Dominica Recreation, PlayCore, and stakeholders and officials from Cleveland all attended the grand opening.
David Hill, Regional Manager for GameTime said "The leaders of Cleveland led by the Cleveland Civitan Club pursued a playground that brought the invaluable experience of play to children of all abilities by working with GameTime on a design focused on the physical, the social, the sensory, the cognitive, and the communication needs as detailed in our Me2 program provided by PlayCore." Jennie Sumrell, Director of Programs and Partnerships for PlayCore added, "It is so exciting for us to see communities embrace the 7 Principles -to eliminate the challenges that individuals with disabilities may face if the play environment was not designed equitably."
Me2, PlayCore's industry leading inclusion program, highlights 7 Principles of Inclusive Playground Design that move play spaces beyond minimum accessibility and seek to create usable play environments that recognize everyone's right to fully participate and independently engage in the lifelong developments of play.
News of PlayCore's research and development in the area of inclusion has led to many positive comments. PlayCore CEO Bob Farnsworth stated, "just yesterday we received an e-mail from Indiana to express thanks for the company's research and development in the field of playground accessibility. The person had heard of the Cleveland TN project and told us that she was very pleased that there are people and corporations that care and want to make the world a more inclusive environment. Having worked with children with special needs for three decades, she has witnessed how painful it is to watch a child who is unable to play. She wanted to thank us for giving children of varying abilities the same benefit of learning experiences through play that other children enjoy."
Farnsworth added, "Positive experiences and feedback like this, from people in the communities we serve, are what drive us at PlayCore to continue to invest in research, partnerships, and programming that help build stronger communities through play."
For information on how to create a play space using PlayCore's 7 Principles of Inclusive Playground Design, go to http://www.inclusiveplaygrounds.org and request a complimentary copy of the Me2 guidebook.
About GameTime
GameTime has been a pioneer in commercial playground equipment since 1929 with a commitment to enriching childhood through play. GameTime combines the vast wealth of research and intellectual resources of our parent company PlayCore with an unmatched distribution network to lead the industry with innovative products, programs and play environments that inspire a child's imagination and promote health and wellness for future generations. http://www.gametime.com
About PlayCore
PlayCore helps build stronger communities around the world by advancing play through research, education, and partnerships. The company infuses this learning into its complete family of brands. PlayCore combines best in class planning and education programs with the most comprehensive array of recreation products available to create play solutions that match the unique needs of the each community they serve. Learn more at http://www.playcore.com