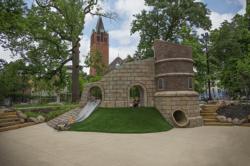 Washington Park exemplifies the power of partnerships to create and maintain urban parks that build community and make our cities sustainable and vibrant
Chattanooga, TN (PRWEB) June 18, 2013
PlayCore is a proud sponsor of the City Parks Alliance Frontline Park program, and is excited that Washington Park in Cincinnati OH was just named the newest Frontline Park! With an amazing dedication to preserving urban green space and honoring their history, the selection should come as no surprise. The 8-acre space has served Cincinnati residents in a variety of ways since the city's youth, and its "relaunch" in 2012 marks an exciting new era for the park.
Catherine Nagel, Executive Director of City Parks Alliance, stated that Washington Park was chosen because it "exemplifies the power of partnerships to create and maintain urban parks that build community and make our cities sustainable and vibrant." In 2012, GameTime, a PlayCore Company, its local representatives David Williams and Associates, Human Nature, Inc. and Site Masters partnered to bring an 18,000 square foot playground to the park. The design honors the architecture of Samuel Hannaford, a Cincinnati based architect who created over 300 local buildings, mostly during the Victorian era. Unique castle styling, a fun riverboat, a hill slide, and accessible features throughout offer local families the opportunity to play together on a historic playground design that honors the rich culture of the area. The park also features a restored bandstand, areas for civic events, water features, a dog park, and many sinuous paths that meander among landscaped vistas.
To learn more about other Frontline Parks, visit the City Parks Alliance page. To see additional photos of the Washington Park play space, click here.
About PlayCore
PlayCore helps build stronger communities around the world by advancing play through research, education, and partnerships. The company infuses this learning into its complete family of brands. PlayCore combines best in class planning and education programs with the most comprehensive array of recreation products available to create play solutions that match the unique needs of the each community they serve. Learn more at http://www.playcore.com.
About City Parks Alliance
City Parks Alliance is the only independent, nationwide membership organization solely dedicated to urban parks. It unites and serves a growing network of hundreds of civic and community leaders, government agencies, park and recreation authorities, funders and others working to create healthy and sustainable parks and green spaces. CPA's vision is that everyone in urban America will live within walking distance of a park that is clean, safe and vibrant. http://www.cityparksalliance.org.