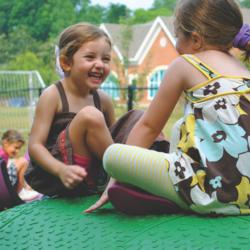 Chattanooga TN (PRWEB) April 27, 2012
PlayCore, a leading company in play products, programs, and research, is going social with National Playground Safety Week, focusing its Twitter and Facebook communications all week long on topics regarding playground safety.
Playground safety, which aligns strongly with the company's mission and values, is a great passion for PlayCore, which believes in designing playgrounds that pose challenges to children along a design continuum to promote skill development with healthy, appropriate risk. The company includes playground maintenance and supervision in its educational outreach training program, available to professionals wanting to increase playground education while obtaining CEU credits. PlayCore has also written guidebooks on both topics with leading industry experts, and is widely recognized as the leader is playground research, partnerships, and programming.
To follow PlayCore's playground safety posts, and to stay in touch with the latest play research. follow or friend them on Facebook (user name playcorenews) or Twitter (User @playcorenews) and sign up for their newsletter at http://www.playcore.com/newsletter
About PlayCore
PlayCore helps build stronger communities around the world by advancing play through research, education, and partnerships. We infuse this learning into our complete family of brands. PlayCore combines best-in-class planning and education programs with the most comprehensive array of recreation products available to create play solutions that match the unique needs of each community we serve.