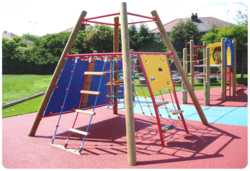 Playing outside, getting muddy, climbing trees and making daisy chains are simple pleasures that many of today's children are missing out on.
(PRWEB) May 30, 2012
Playday 2012 is due to launch on 1st August 2012, as nationwide events are organised to encourage families across the UK to go outdoors and play. Now in it's 26th year, Play Day has come a long way from its humble beginnings in 1986.
Government cuts of play areas in and around the London area were rumoured, and a group of play workers held a meeting to see what could be done to prevent the losses. That first meeting, by all accounts, was a quiet affair, but the following year several very successful events had taken place as a result, with the manifesto of having a national day to celebrate children's play.
Play Day has snowballed from a few events held in the London area to festivals, workshops and activity days held up and down the country earning support from many notable bodies; The Child Accident Prevention Trust, The Grandparents' Association and The National Union of Teachers all encourage participation from communities, clubs and families to get involved and raise awareness.
'National Playday 2012 is a campaign designed to raise awareness of the importance of outdoor play for our children and celebration of their rights to do so- there's essential experiences to be had outdoors,' says Playground Imagineering owner Robin Harwood, who regularly liases with schools and nurseries and has over 25 years' experience in the design and manufacture of school playground equipment. 'Outdoor play, whether in trees, on playground equipment or a simple stretch of grass, is essential to children's development.'
Working in partnership with Play Wales, Playboard Northern Ireland and Play Scotland, Playday 2012 is co-ordinated by Play England, part of the National Children's Bureau. In research commissioned by Play England and antiseptic manufacturer Savlon for the cause, 72% of parents played outside regularly as children and are concerned their own youngsters do not have the same opportunities, with just 40% venturing outdoors.
'The research produced for Playday is indicative of how our culture has changed,' says playground equipment supplier Robin Harwood. 'But we have to move with the times and ensure adequate time is made to provide children with outdoor experiences.'
The study involved 2,000 parents that had children under the age of sixteen and 2,000 youngsters between the ages of six and fifteen years old, providing an insight of modern children's outdoor play and illustrating how more traditional games are decreasing. One in ten children polled had never ridden a bicycle whilst one third had never played hopscotch. A quarter of the children had never rolled down a hill and nearly 50% had never made a daisy chain.
'Playing outside, getting muddy, climbing trees and making daisy chains are simple pleasures that many of today's children are missing out on,' says Catherine Prisk, co-director of Play England 'Play – outside and indoors – is essential for children's health, well-being and happiness now, and is also important for their future development, to build vital life and social skills.'
32% of children polled had never climbed a tree and 29% had never constructed a tree house, shelter or den of some kind- an activity that 47% of their parents had enjoyed decades previously. Over a third of the parents surveyed claim their favourite aspects of childhood play were formulating their own games with siblings and friends, proving that outdoor play doesn't have to be structured or costly, requiring nothing more than a little imagination.
70% of the parents and children surveyed for the research considered a trip to a local park or green space is regarded as a 'treat', and 59% of the children expressed a desire to play outside more. 'There's lots of reasons why children aren't playing outside as often. Television and technology, bad weather and location are easily identifiable culprits, but parents' longer working hours are often a factor too,' says school playground equipment manufacturer, Robin Harwood. 'Unfortunately some parents feel where they live is not a safe place for their children to play outside unsupervised, and safety is a major factor.'
'It's important that we overcome the barriers to outdoor play by addressing parents' safety concerns, protecting and making the most of outdoor spaces in our communities and acknowledging the pressures on family time,' says Catherine Prisk, co-director of Play England. 'For families, simply building a little time to play in the fresh air every day is a great start.'
'Playday is all about raising awareness of outdoor play, and all the different games and objects that can be incorporated,' says playground benches and school playground equipment supplier, Robin Harwood. 'The event allows both parents and children to get involved with their local community whilst exploring their environment and inspiring play.'
During Playday 2012, locally organised neighbourhood activities and large public events held across the UK offer thousands of children and their families the opportunity to get outside and play. 'There is so much modern children are missing out on, and as parents, teachers and care providers, it is our duty to ensure that they are getting the most beneficial experiences outdoors,' says playground equipment supplier Robin Harwood. 'Playday aims to encourage those children to come and get involved in outdoor play and illustrate what fun can be had outside.'
Getting involved with Play Day is as simple as organising an event within your local community. The official Play Day website offers plenty of ideas and support for activities that are easy to organise, but that could positively impact children's understanding and development through the medium of play.
'If you're a parent, teacher or care giver and you're interested in Playday 2012, there's lots of information on the Savlon.co.uk website. You don't necessarily have to organise a local event yourself- there's plenty to choose from countrywide,' says Robin Harwood who supplies playground benches and School playground furniture to schools and nurseries around the country. 'All you have to do is turn up and get involved!'
This press release was part of an ongoing SEO campaign; if you would like something similar choose search engine marketing consultants Vizcom.