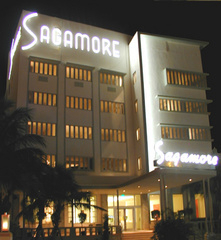 "Online social media has altered the way we consume and produce news," Hernandez says. "This transformational shift has delivered substantial results for both sports fans and athletes alike. We have developed an innovative concept for a sports media platf
Miami Beach, FL (PRWEB) February 3, 2010
The official launch celebration for http://www.playerpress.com, the central hub for the Player Press Sports Network, is set for Feb. 3, during Super Bowl week at the Sagamore Hotel in Miami.
Player Press is a next-generation sports social network designed to meet every demand of the modern sports fan. With playerpress.com, the company offers a cutting-edge central blog platform for sports fans around the world to gather and talk about sports while rubbing elbows with their favorite athletes. More than 50 professional sports stars currently blog at the site, which includes more than 150 interconnected team fan websites.
PlayerPress.com bloggers include NFL stars Sidney Rice, Michael Vick, Marion Barber, Clinton Portis, Brian Cushing and DeAngelo Hall, NHL all-star Dan Boyle and international women's volleyball star Kim Glass.
Player Press is also a sports ad network and a wire service for breaking news with a proprietary content management system that connects more than 200 properties in an ever-expanding network.
The mission: Provide an unfiltered source of content for professional athletes and sports fans alike. Sports fans get the rare opportunity to actively participate in the same medium as their favorite sports stars, leading to a lively community of writers who avidly cover and debate every facet of sports. For athletes, Player Press provides a dynamic platform to increase exposure on a national level, build closer relationships with fans at the grassroots level and bypass the mainstream sports media through personal blogs.
Player Press's most popular and dedicated writers have a chance to get paid for their services. The purpose is to reward the network's most committed sports writers with paid assignments and more exposure. Through its platform, Player Press is seeking to build a talented team of independent citizen sports journalists.
Player Press will also serve as a destination for online sports learning, with a series of eBooks set for release that cover a wide range of topics in sports. Titles such as "How to Become a Sports Agent" are meant to offer aspiring agents step-by-step instructions toward reaching their goal. Player Press will soon offer a library of insightful eBooks with exciting titles at affordable prices.
Player Press, LLC, based in New York City, was started by Jim Finn, who played for eight seasons in the NFL with the New York Giants and Indianapolis Colts, and his business partner, John Hernandez, a seasoned sports marketing executive specializing in social media.
"Online social media has altered the way we consume and produce news," Hernandez says. "This transformational shift has delivered substantial results for both sports fans and athletes alike. We have developed an innovative concept for a sports media platform that spurs increased engagement between athletes and fans. Our goal is to revolutionize the sports media landscape by streamlining the way both parties communicate."
###