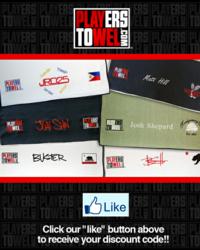 "With Facebook leading the way in the Social Network arena, it was a natural fit to concentrate our communications with our fans on the Players Towel Fan Page." - Patrick LeVine CEO Wear It Inc.
Phoenix, Arizona (PRWEB) September 30, 2011
Players Towel, the preferred golf towels among the world's best golfers and caddies, has initiated a new Facebook Campaign offering significant discounts for new "Likes" to their Players Towel Facebook Fan Page. With the 2011 golf season winding down and Players Towel coming off their best year, recording 17 wins on the PGA Tour, LPGA Tour and Nationwide Tours, we felt it was a good time to give back to our loyal and dedicated customers.
With Facebook leading the way in the social network arena, it was a natural fit to concentrate our communications with our fans on the Players Towel Fan Page. By liking and sharing Players Towel content, Fans will immediately receive a 20% off discount code good for their next purchase at PlayersTowel.com. Additionally, as new promotions are unveiled, our Fans will be able to take advantage of many new and exciting promotions including: Group Buys, Coupons and Free Giveaways. Additionally, Fans will soon be able to make purchases on prototypes and new products, directly from the Facebook Fan Page.
It's the Perfect Gift!
With the holidays around the corner, a personalized Players Towel is the perfect gift. With customization features including Logos, Font Choices, Base and Border Colors, Players Towel offers the most customizable, functionally superior product on the market! Nothing says "I Care" like a beautifully crafted, customized Players Towel.
We anticipate Players Towel being included in The Hottest Golf Gifts this holiday season! So don't wait! Get your 20% off discount code today!
About Players Towel - the Game's Leading Performance Golf Towel
Used by golf's best Players and Caddies, the Players Towel have quickly become the golf towels of choice and has shown up on the winner's bag in all the major tours and majors including: the U.S. Open, The Masters, The PGA Championship, WGC Championship, The Solheim Cup, Evian Masters and the PGA and LPGA Tour Championships. Designed by a former tour caddie, Players Towel's microfiber technology provides the best absorption and cleaning characteristics available on the market allowing for optimal groove cleaning, absorption and durability. While traditional heavy cotton cloth towels push dirt and moisture around, the Players Towel microfiber technology picks up dirt and moisture, holding it in the cloth and off the equipment, resulting in cleaner, dryer equipment and enhanced player performance. Available in custom logos, signatures, colors and an optional "Putterslit," Players Towel is an essential part of one's golf game and makes an ideal tee gift for corporate, charity and club outings. Players Towels are sold on line at http://www.PlayersTowel.com and at leading pro-shops and resorts around the world.
###