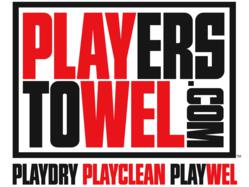 "I won my fifth tournament and a hundred times for all of Korean players," the winner said when asked about her victory. "So it's very nice. Icing on the cake."
Phoenix, AZ (PRWEB) October 20, 2011
Players Towel golf towels featuring high performance microfiber waffle technology, continued its domination of professional golf by capturing the Sime Darby LPGA Malaysia for its industry leading 18th win of the year. In addition the Players Towel was used by the runner-up on the PGA Tour's The McGladrey Classic. This runner-up finish moved the golfer to the top spot of the official PGA Tour money list, with only one event left this year.
"I would like to congratulate the winner of the Sime Darby LPGA Malyasia for her fifth career LPGA Tour victory," said Patrick Le Vine, founder of the Players Towel. "Even though the professional season is winding down, the Players Towel has once again proven to be the towel of choice for the world leading players and their caddies."
It was also a special victory in that it was the 100th victory by a player of Korean descent on the LPGA Tour. "I won my fifth tournament and a hundred times for all of Korean players," the winner said when asked about her victory. "So it's very nice. Icing on the cake."
About Players Towel - the Game's Leading Performance Golf Towel
Used by the game's top players, the Players Towel have quickly become the golf towels of choice among the world's best players and has shown up on the winner's bag in all the major tours and majors including: the U.S. Open, The Masters, WGC Championship, Evian Masters and the PGA and LPGA Tour Championships. Designed by a former tour caddie, Players Towel's microfiber technology provides the best absorption and cleaning characteristics available on the market allowing for optimal groove cleaning, absorption and durability. While traditional heavy cotton cloth towels push dirt and moisture around, the Players Towel microfiber technology picks up dirt and moisture, holding it in the cloth and off the equipment, resulting in cleaner, dryer equipment and enhanced player performance. Available in custom logos, signatures, colors and an optional "Putterslit," Players Towel is an essential part of one's golf game and makes an ideal tee gift for corporate, charity and club outings. Players Towels are sold on line at http://www.playerstowel.com and at leading pro-shops and resorts around the world.
###