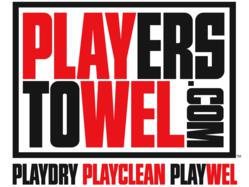 I put one in my bag last year and I made over 3 million bucks. Results may vary." Bo Van Pelt
Phoenix, AZ (PRWEB) November 01, 2011
Players Towel is pleased to announce it's 19th win in 2011. Players Towel golf towels were once again visible on the winner's bag, this time in Malaysia. In hot and humid conditions, Bo Van Pelt summoned the clutch gene by birdying 5 of his last 8 holes firing 64 to bring home the trophy at the Asia Pacific Classic. Finishing at -23 for the week, Van Pelt earned his first victory of the year by the landslide margin of 6 shots. Van Pelt's performance earned him a hefty late season purse, taking home $1.3 million in an event co-sanctioned by the PGA and Asian Tours.
Players Towel is proud to have been a part of Bo's success in 2010 and 2011. When asked earlier this year about his Players Towel, Bo responded, "I put one in my bag last year and I made over 3 million bucks. Results may vary." With winners mounting at an alarming rate, there seems to be a Karmic advantage to having a Players Towel on the bag. With 1 victory in 2008, 4 in 2009, 8 in 2010 and now 19 in 2011, everyone seems to want one!
About Players Towel - the Game's Leading Performance Golf Towel
Used by the game's top players, the Players Towel have quickly become the golf towels of choice among the world's best players and has shown up on the winner's bag in all the major tours and majors including: the U.S. Open, The Masters, WGC Championship, Evian Masters and the PGA and LPGA Tour Championships. Designed by a former tour caddie, Players Towel's microfiber technology provides the best absorption and cleaning characteristics available on the market allowing for optimal groove cleaning, absorption and durability. While traditional heavy cotton cloth towels push dirt and moisture around, the Players Towel microfiber technology picks up dirt and moisture, holding it in the cloth and off the equipment, resulting in cleaner, dryer equipment and enhanced player performance. Available in custom logos, signatures, colors and an optional "Putterslit," Players Towel is an essential part of one's golf game and makes an ideal tee gift for corporate, charity and club outings. Players Towels are sold on line at http://www.PlayersTowel.com and at leading pro-shops and resorts around the world.
###