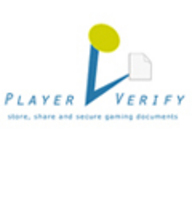 PlayerVerify.com has developed a revolutionary secure system where players simply login, upload their documents and send a request to the gaming site for document approval
(PRWEB) April 13, 2010
Player Verify, LLC, the only company with the firm mission to ease the verification process between players and gaming sites for added security, announces its launch at http://www.PlayerVerify.com. Designed for both online players and the i-gaming industry, PlayerVerify.com provides both the services and secure technology needed to ease the player document verification process between the two groups. Among other information, PlayerVerify.com helps players and sites around the world securely verify such information as proof of age, address and credit card information.
"PlayerVerify.com has developed a revolutionary secure system where players simply login, upload their documents and send a request to the gaming site for document approval," says Mark Dalton of Player Verify, LLC. "With PlayerVerify.com, players and gaming sites alike can be confident that sensitive personal information remains private."
Most gaming sites require highly sensitive personal information for both registration and use. With the threat of identity theft ever-present, players and gaming sites need to ensure they are utilizing secure services to both protect against this threat and to provide peace of mind. With PlayerVerify.com, instead of faxing or e-mailing sensitive documents, players can upload all of their document verification details through one portal. PlayerVerify.com then makes this information accessible to specific gaming sites or operators, who then obtain the information through an access code provided by the player.
PlayerVerify.com provides online gamers with many account security features. Players can see who is viewing their personal documents in real-time and have real-time accessibility to whether those documents are approved or denied. In addition, players have exclusive access to a log that lists who viewed uploaded documents and when, providing an added layer of security. Users can learn almost instantly if an unauthorized person or site is trying to gain access to their information. Players also have the ability to lock their documents upon approval from the gaming site, further preventing unauthorized access.
Online gaming sites also have many benefits to using PlayerVerify.com. Gaming site operators no longer need to sort through faxes or e-mails that contain the personal details of their players. In addition, gaming sites no longer need to worry about how to properly and safely store or dispose of this critical information. Operators can also benefit from PlayerVerify.com's online approval/denial services and can quickly send requests for further information from players.
For more information about PlayerVerify.com's revolutionary online system for online gaming players and gaming sites, visit http://www.playerverify.com.
About Player Verify, LLC
Player Verify, LLC's founder is intimately familiar with all aspects of responsible gaming and efficient verification. As a result, Player Verify introduces a whole new level of security into the gaming experience. The company is registered with the state of Tennessee.
# # #