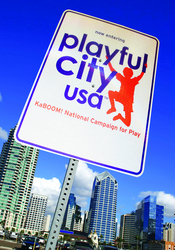 The ideas range the gamut, from new programming and access initiatives to creating informational resources and public private partnerships. It just goes to show you, where there's a will, there's a play.
Washington, D.C. (Vocus) September 6, 2008
To ensure that their children are active and healthy, 67 communities across the country have taken innovative approaches to make play a priority. Despite mounting budget issues, communities large and small, urban and rural, in the red and in the black, have created initiatives to increase both the quantity and quality of play and playgrounds, as well as increasing access to existing opportunities to play.
To honor these cities and towns that have made this commitment to play, KaBOOM!, a national non-profit dedicated to bringing play back into children's lives, named them Playful City USA communities. Playful City USA is a national recognition program that honors cities and towns across the nation who put their children's well-being first by recognizing and harnessing the power of play. KaBOOM! and qubo, the television and online service for children, announced the list of 2008 Playful City USA communities and will support the initiative with an extensive marketing campaign.
This is the second year of the annual program, and 27 of the 31 founding Playful City USA communities have made the list again, while 40 new communities, including New York, Los Angeles, St. Petersburg, and Orlando have joined the ranks. The agendas all of these communities have created impact not only childhood wellness, but public safety and quality of life issues.
Each of the 2008 Playful City USA communities demonstrated creative commitments to the cause of play including:
Quantity

New York City (pop. 8,250,567) Mayor Michael Bloomberg partnered with the Trust for Public Land to create places to play within a ten-minute walk of every child in the city. Current plans call for the creation of 185 new playgrounds and community parks, serving more than 380,000 children.
In 2004, St. Petersburg, Fla. (pop. 252,246), launched "Play 'N' Close to Home", a public/private partnership to build playgrounds within a half-mile of every child. To date, this partnership with schools and houses of worship has increased the number of playspaces by 20%.
Quality

The City Council of Greenbelt, Md. (pop 20,903) is ensuring the quality of existing playgrounds by creating a new initiative to foot 75% of the cost to maintain and upgrade unsafe playgrounds controlled by Home Owner Associations. In return, the HOAs agree to make their playgrounds open to the general public.
In San Francisco (pop. 719,077), the Neighborhood Parks Council (NPC) created a Playground Report Card and follow-up action plan. Any public playground that receives an "F" is visited by a group of community volunteers who undertake safety improvements and clean up days.
Access

To dramatically increase access to playgrounds, Tucson, Ariz. (pop. 543,897) is opening up its existing school playgrounds after school hours, on weekends and during the summer. Los Angeles (pop. 3,684,820) has launched a pilot project along the same vein.
Teens in Landfall, Minn. (pop. 700) desperately needed a place to skate, so the community hired a bus to take the kids to the nearest skatepark, over 40 miles away. The program was so popular, the community is now working on building a skatepark of their own.
The KaBOOM! vision is a great place to play within walking distance of every child, while qubo's mission is to promote healthy lifestyles for children. Playful City USA communities create best practices, like the ones above, to reach those same goals. They serve as role models for other communities and prove that enhancing children's well-being by increasing the opportunity for play is an attainable goal for every community.
"In a time when communities are struggling with critical financial decisions, these Playful City USA communities proved their commitment to the cause of play by launching creative initiatives designed to increase access to playspaces, improving the quality of play in their community, and increasing the time children spend playing," said Darell Hammond, KaBOOM! CEO and Co-founder. "The ideas range the gamut, from new programming and access initiatives to creating informational resources and public private partnerships. It just goes to show you, where there's a will, there's a play."
Added Rick Rodriguez, president and general manager of qubo, "qubo shares the goal of enhancing the lives of America's children through play. We applaud these 'Playful City USA' communities that have made play a priority and are proud to be part of this effort that gives kids the opportunity to be kids again."
2008 Playful City USA Communities
*Ankeny, Iowa; Arlington, Texas; *Atlanta, Ga.; Bloomington, Ind.; Brentwood, Calif.; *Canton, Ga.; Cerritos, Calif.; *Chandler, Ariz.; Columbus, Ga.; Coolidge, Ariz.; *Creedmoor, N.C.; Danville, Va.; DeRidder, La.; *Dothan, Ala.; *East Cleveland, Ohio; *El Paso, Texas; Encinitas, Calif.; Findlay, Ohio; *Gilbert, Ariz.; Grand Prairie, Texas; Green River, Wyo.; *Greenbelt, Md.; Henderson, Nevada; Hernando, Miss.; Huntsville, Ala.; Irvine, Calif.; *Kenner, La.; *Kerman, Calif.; La Mesa, Calif.; *Lake Charles, La.; Lake Saint Louis, Mo.; *Lake Worth, Fla.; Landfall, Minn.; Lauderdale Lakes, Fla.; *Longview, Wash.; Los Angeles, Calif.; Mercer Island, Wash.; Murray, Ky.; Nampa, Idaho; Neenah, Wis.; *New Lenox, Ill.; *New Roads, La.; New York, N.Y.; Newport News, Va.; *Norfolk, Va.; Northglenn, Colo.; Orlando, Fla.; Palm Bay, Fla.; Parkland, Fla.; *Phoenix, Ariz.; *Portsmouth, Ohio; Riverside, Calif.; Riviera Beach, Fla.; Safety Harbor, Fla.; St. Paul, Minn.; St. Petersburg, Fla.; *San Francisco, Calif.; *San Jose, Calif.; *Shirley, Mass.; *Spartanburg, S.C.; Springdale, Ark.; *Tucson, Ariz.; *Wapello, Iowa
West Palm Beach, Fla.; York, Pa.; Yorkville, Ill.; *Yuma, Ariz.
*2007 Playful City USA
2008 Playful City USA Communities by state:
10: California
9: Florida
6: Arizona
4: Louisiana
3: Georgia, Ohio, Texas, Virginia
2: Alabama, Illinois, Iowa, Minnesota, Washington
1: Arkansas, Colorado, Idaho, Indiana, Kentucky, Maryland, Massachusetts, Mississippi, Missouri, New York, Nevada, North Carolina, Pennsylvania, South Carolina, Wisconsin, Wyoming
Applications for 2009 Playful City USA recognition will be available beginning October 13.
The KaBOOM! National Campaign for Play, including the Playful City USA program, is made possible via the support of the Omidyar Network.
About KaBOOM!:
KaBOOM! is a national non-profit organization that envisions a great place to play within walking distance of every child in America. Since 1995, KaBOOM! has used its innovative community-build model to bring together business and community interests to construct nearly 1,500 new playgrounds, skateparks, sports fields and ice rinks across North America. KaBOOM! also offers a variety of resources, including an online community, regional and national trainings, grants, publications and the KaBOOM! National Campaign for Play, which includes Playful City USA and the Playmaker Network - a national network of individual advocates for play. Headquartered in Washington, D.C., KaBOOM! also has offices in Chicago and San Mateo, Calif. For more information, visit http://www.kaboom.org.
About qubo:
qubo® is a groundbreaking bilingual, multi-platform entertainment destination for children that focuses on literacy, values and healthy lifestyles while celebrating the unlimited possibilities of a child's imagination. Most of qubo's shows are associated with popular children's books, and the network's interstitial programming continues to reinforce messages about early literacy and healthy living. Beyond its quality television offerings, qubo utilizes its interstitial programming, website and outside partnerships (with the U.S. Olympic committee and Reading is Fundamental) to promote messages about healthy living and literacy. qubo also recently adopted a set of nutritional guidelines for acceptable foods that can be advertised on air. Formed in 2006 by an unprecedented alliance of leading distribution partners and content players in children's television, including Scholastic, ION Media Networks, NBC Universal, Corus Entertainment and Classic Media, qubo offers dynamic content in multiple environments. Currently broadcast on NBC Saturday mornings, ION Television Wednesday- Friday afternoons and Telemundo weekend mornings (check local listings) qubo also includes a 24/7 qubo Channel and website, http://www.qubo.com.
###