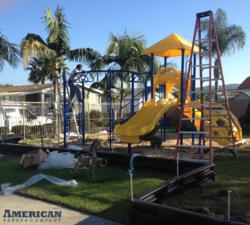 Anaheim, CA (PRWEB) December 19, 2012
Ok, so not the Riviera you are thinking of, but the Riviera nonetheless. American Parks Company is proud to announce the installation of a new commercial play structure named RIVIERA at The Friendly Village of Anaheim. The new playground equipment is designed for children ages 5-12 and can accommodate up to 24 children. The components of this playground are commercial grade and engineered to resist corrosion, fading and mildew. In addition, it is also designed in compliance with the public playground safety standards, ASTM and CPSC. The children of the Friendly Village can expect to enjoy this new addition for many years to come.
The Friendly Village of Anaheim is a beautiful, well-maintained mobile home park located in the highly desirable Anaheim Hills area of California. Close to freeways, shopping and Yorba Regional park, this 347 space All Age community is a fantastic place to live! There are many homes with garages, and mini-storage and RV storage is available. Amenities of the property include: Clubhouse and Playground, Mini-Storage / RV Storage, Pool, spa, exercise room, and planned activities for residents.