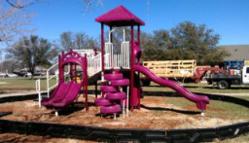 Dilley ISD: where the best in education, skills, and preparedness for the future is achieved
Dilley, Texas (PRWEB) February 20, 2013
Dilley ISD recently acquired a new commercial playground structure for the district. The new playground equipment was purchased from American Parks Company, a leading manufacture, supplier, and installer of commercial-grade park and playground equipment based in Prosper Texas.
The playground equipment was provided by the Hess Corporation and donated to Dilley ISD. The structure chosen was the Brookline, a play component designed for children ages 5-12 with a child capacity of up to 24 children.
The City of Dilley, like Hope Arkansas, is best known for its summer watermelons. Having a population of under 4000, the town has remained true to its roots. With such a small community, Dilley truly is a "slice of the good life".