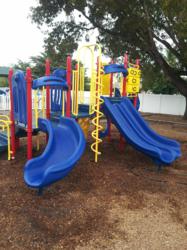 Children need a place to express their creativity, to feel safe, and to be a part of a group that has strong unity.
Coral Springs, Florida (PRWEB) January 02, 2013
New Commercial Playground Equipment for Bright Future Learning Center has been installed! The Bright Future Learning Center prides itself on knowing the importance of play, creativity, and individual potential. "Our goal is for each child to reach his or her fullest potential through age appropriate activities. Children need educational stimulation in art, math, phonics, computers, reading, music, and social behavior, all of which we are prepared to give." The learning center has done just that.
This past week the Bright Future Learning center added a new tool to it's program; a brand new commercial play structure from American Parks Company. The new play structure is designed for children ages 2-12 and can accommodate up to 40 children playing together at one time. With 4 Slides, 2 Climbers, 4 Play Panels, and Telephone Tubes the children who attend the learning center can count on countless hours of new and exciting play activities for many years to come.
American Parks Company is a nationwide supplier and installation specialist for commercial playground and park equipment. We work closely with Schools, Churches, Municipalities, and Daycare facilities to acquire, install, and maintain commercial play structures.