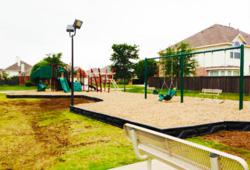 Every evening when I drive past the park, there are 15 -20 children playing on and enjoying the new equipment. It is a really nice sight to see.
Fort Worth, Texas (PRWEB) June 21, 2013
The Parks of Deer Creek now has a new centerpiece for its charming little community. The residents of this secluded neighborhood were thrilled that a crucial amenity for their children was updated just in time for the highly anticipated summer break. The new playground equipment was installed and ready for play just a few days prior to the Summer Kick Off Pool Party that the pool committee organized for May 25th. "Since the new playground was opened, every evening when I drive past the park, there are 15 -20 children playing on and enjoying the new equipment. It is a really nice sight to see, " Phil Sherwood, Parks Of Deer Creek HOA said.
From the beginning, The Parks of Deer Creek had a vision of a beautiful new play space that accommodated children ranging in age from 5 to 12. After much review and thoughtful planning, the appropriate commercial playground equipment was chosen. The association's board decided on a main play structure named Fairfield Bay and a single post 2 bay swing frame from American Parks Company. The Fairfield Bay was a perfect choice; the structure offers a unique combination of fitness opportunities and good old fashion play! The Fairfield Bay nurtures all areas of development and encourages growth. Key components include a wonderful mixture of overhead and vertical climbing elements, balance challenges, and sliding amusement. All components are commercial grade and quality engineered to resist corrosion, fading, and mildew. In addition, it is also designed in compliance with the public playground safety standards, ASTM and CPSC. The Parks of Deer Creek HOA had another request as well, that no child shall be excluded. The entire site is ADA accessible.
About The Parks Of Deer Creek
When you walk along the quiet streets, it's easy to see why homeowners choose to live in the Parks of Deer Creek. This beautiful neighborhood is secluded and private, yet close to all the conveniences of a big city. Easy access to I-35W means faster commutes to work. Grocery stores, shopping and restaurants are minutes from your front door. The Association is currently managed by Premier Communities, one of the most experienced teams in Texas residential property management.
About American Parks Company
American Parks Company is a McKinney Texas based company that provides commercial grade park and playground equipment primarily to municipalities, city parks, schools, churches, daycare facilities, and homeowner associations. Since 2004, American Parks Company has consistently provided high quality play structures at extremely affordable prices. American Parks Company is an industry leader in both the national sales and installation of commercial playground equipment. For general information on American Parks Company, please call 1-800-381-4491 or visit http://www.AmericanParksCompany.com. For media inquires, contact Marc Parker – Vice President of Marketing - sm(at)americanparkscompany(dot)com. Corporate Address: 225 E. Virginia Street McKinney, Texas 75069.