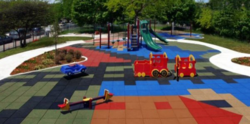 There is no need for advertising or architects because they buy through these three joint powers. This saves money and time. All they have to do is fill out a purchase order which has set pricing
San Jose, CA (PRWEB) September 15, 2011
Filice Enterprises, a Bay Area playground safety surface installation company, announces that any government entity (schools, city, etc) can buy certain playground surfacing products without having to go to bid. This can be done through three joint powers: the California Multiple Award Schedules (CMAS) Program, the National Joint Powers Alliance (NJPA), and the H-GAC (HGACBuy) Purchasing Agreements.
The CMAS Program, which applies to SofTile playground surfacing, offers a wide variety of commodity, non-IT Services, and information technology products and services at prices which have been assessed to be fair, reasonable and competitive. The NJPA contract enables government, education and non-profit agencies a purchasing solution that satisfies most agencies' competitive bid requirements. The HGACBuy is a "Government-to-Government" procurement service that strives to make the process more efficient by establishing competitively priced contracts for goods and services, and providing the customer service necessary to help its members achieve their procurement goals. NJPA and HGACBuyapplies to Fibar engineered with fiber and Fibar poured in place for playground surfacing.
"There is no need for advertising or architects because they buy through these three joint powers. This saves money and time. All they have to do is fill out a purchase order which has set pricing. This also eliminates the fear of appearing to sole source purchase because this is done in a legal way," states Mike Filice, President of Filice Enterprises.
For more information on Filice Enterprises, give them a call at (800) 599-2386. Visit them at 711 Lincoln Ave San Jose, CA 95126 or on the web at http://www.filicesafetysurfaces.com.
About FiliceEnterprices
Since 1995, Bay Area's Filice Enterprises has been California's premier supplier of playground safety surfaces and has covered eight million square feet of playground surfaces. They are the exclusive Northern California representative of Fibar Systems, SofTileKroslock Interlocking Rubber Safety Tiles, as well as materials for Poured in Place Rubber projects, including playground mulch. For five consecutive years, Filice Enterprises have been named Fibar Sales Representative of the Year.
Filice Enterprises serves the entire San Francisco Bay Area, including the communities of Alameda, Antioch, Berkeley, Castro Valley, Concord, Daly City, Dublin, Emeryville, Fairfield, Fremont, Hayward, Livermore, Marin, Martinez, Mill Valley, Mountain View, Napa, Novato, Oakland, Palo Alto, Pleasanton, Redwood City, Richmond, San Bruno, San Francisco, San Jose, San Mateo, San Rafael, San Ramon, Santa Clara, Sonoma County, Solano County, Vacaville, Vallejo, and Walnut Creek.
###