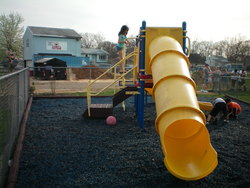 I see plenty of bone injuries in my practice. We needed a better solution. Wood fiber was no longer a safe or environmentally sound choice for our children. We chose to use "Playsafer" rubber mulch manufactured by Rubberecycle.
Lakewood, New Jersey (PRWEB) April 20, 2010
Arbor Day is April 30 and communities across the country will plant trees and beautify public parks and playgrounds. RubbeRecycle http://www.rubberecycle.com/ has donated rubber mulch for a Little League team to update their playground. They removed wood chips and added the rubber mulch – a product made from recycled tires.
The playground is used by the siblings and friends of the Toms River, New Jersey, East Little League Team. The safety surface was engineered wood fiber that was continuously an issue. It was always wet and in need of yearly replenishment. RubbeRecycle worked with the Toms River Little League to put in a new rubber surface to increase the safety, safe money on yearly replenishment costs and to do their part by saving beautiful trees from unnecessary destruction.
Twelve years ago, the Toms River East Little League celebrated winning the Little League World Series. Those young stars are now well into their twenties. The superb coaching, support and management of the league was first class and highly progressive. The top notch management of the Toms River East Little League continues to think outside the box – they wanted a safer playground.
"The playground that the younger children can play on while their siblings and friends play baseball had some serious safety concerns," said Toms River East Little League Safety Director, Dr. Frank Sommerer. Dr. Sommerer is the clinical director of Shore Pointe Chiropractic in Toms River and has been in private practice for 20 years. He has served as team Chiropractic Physician for the Lakewood BlueClaws, the minor league affiliate of the Philadelphia Phillies since their inception. He is also a team Chiropractor for the Toms River East baseball program and for many other area high schools, recreational teams and organizations.
Dr. Sommerer states,"The playground mulch that we have been using was in constant need of replenishment. Despite our drainage system, it was always damp and retaining moisture. As our season opener was approaching, I noticed that the playground surface seemed very hard. It seemed that although early spring was upon us, the nights were still dipping near freezing causing our safety surface to freeze." After researching wood fiber, I learned that many of these manufacturers claim this potentially life threatening flaw in tiny, hidden disclaimers.
As the Safety Director and a doctor, he was concerned. "I see plenty of bone injuries in my practice and felt that we needed a better solution. We decided that wood fiber was no longer a safe or environmentally sound choice for our children. We chose to use "Playsafer" rubber mulch manufactured by Rubberecycle. I immediately noticed a difference. The surface is unbelievably soft and dry! I feel comfortable knowing that our children are much safer while playing on the tot lot."
The Obama's use the same Playsafer rubber mulch at The White House and Dr. Sommerer has the surface at his own home too. "It is a great safety and environmentally conscious example for others to follow. We also felt that in the spirit of Arbor Day, it was a great educational tool to show the children how to save their environment. We wanted to encourage them to do their "green" part by using a recycled product. The Toms River East Little League continues to nurture future champions on and off the baseball fields."
The new surface sports the team's colors: blue and black. RubbeRecycle supports this team and others in their efforts to go green and to go safe when it comes to our kids.
About RubbeRecycle
RubbeRecycle introduced top quality rubber surfacing products to the military, commercial and residential markets in 1996. Their playground mulch conforms to all CPSC safety guidelines and has ADA approval. A pioneer in the tire recycling industry, the company utilizes the most advanced technology and equipment to recycle tires on site. The resulting playground surfacing is low maintenance, safe for children and comes with a lifetime guarantee.
The White House uses RubbeRecycle for their playground as featured on 60 mins.
RubberRecycle is social:
Blog: http://blog.rubberecycle.com
Twitter: http://www.twitter.com/rubberecycle
Facebook: http://www.facebook.com/Rubberecycle
###