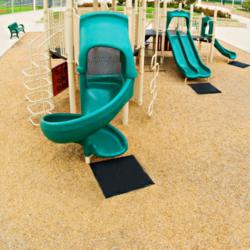 San Francisco, CA (Vocus/PRWEB) May 24, 2011
Filice Enterprises, a Bay Area playground safety surface installation company, is offering a special deal to Bay Area clients: $39.95 a cubic yard for all Fibar orders over 60 yards. Fibar is a safe surface made of engineered wood fibers that knit together to form a surface soft enough to cushion falls, yet firm enough for wheelchairs. Add in the patented drainage system and Fibar mats to avoid mud and puddles after a rain and receive a 25 year warranty.
"According to FedStats, a child is injured on a playground every two minutes," said Mike Filice, president of Filice Enterprises. "Seventy percent of all playground injuries are from falls to the surface. Protective surfacing is one of the most critical safety factors in the design, development, and maintenance a playgrounds."
Filice Enterprises offers safety playground surfaces for commercial and residential spaces, and is both the supplier and the installer. They offer competitive pricing like a big chain, but maintain to be a family run local supplier with product exclusivity, whose delivery services is offered statewide. Along with Fibar Systems, SofTile and Ape Playground Equipment are also available.
For more information about playground safety surfacing, or any of Filice Enterprises' other products or services, call them at (800) 457-6821 or visit them on the web at filicesurfaces.com.
About Filice Enterprises
Since 1995, Filice Enterprises has been California's premier supplier of playground safety surfaces and playground mulch. The company has covered 8 million square feet of playground surfaces. They are the exclusive Northern California representative of Fibar Systems, SofTile Kroslock Interlocking Rubber Safety Tiles, as well as materials for Poured in Place Rubber projects. For five consecutive years, Filice Enterprises have been named Fibar Sales Representative of the Year.
Filice Enterprises serves the entire San Francisco Bay Area, including the communities of Alameda, Antioch, Berkeley, Castro Valley, Concord, Daly City, Dublin, Emeryville, Fairfield, Fremont, Hayward, Livermore, Marin, Martinez, Mill Valley, Mountain View, Napa, Novato, Oakland, Palo Alto, Pleasanton, Redwood City, Richmond, San Bruno, San Francisco, San Jose, San Mateo, San Rafael, San Ramon, Santa Clara, Sonoma County, Solano County, Vacaville, Vallejo, and Walnut Creek.
# # #