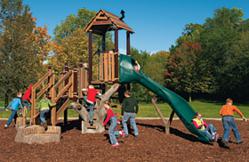 Our nature-inspired playground equipment will attract more children outdoors and keep them playing longer.
Delano, MN (Vocus/PRWEB) February 01, 2011
Landscape Structures Inc., a Delano, Minn.-based commercial playground manufacturer, announced the introduction of several new nature-inspired playground components at its annual sales meeting held earlier this month. The new playground products fall under their Play Naturally™ playground solution, which helps encourage children and families to get outdoors and interact with their environment.
The childhood obesity epidemic is contributing to disturbing increases in childhood cardiovascular diseases and diabetes, and makes it more likely that these children will struggle with obesity as adults. "Nature-deficit disorder," a termed coined by Richard Louv in his book "Last Child in the Woods," is thought to contribute to inactivity and the obesity epidemic. That's why Landscape Structures continues to introduce nature-inspired playground equipment in the hopes that it will draw children outdoors to engage in play, which will lead to greater physical, emotional and social wellbeing.
"Countless studies have indicated that outdoor play is becoming a thing of the past, and that this is profoundly impacting the health of our children," explained Steve King, cofounder and chairman of Landscape Structures and a Fellow of the American Society of Landscape Architects. "We believe we have an obligation to help turn this trend around and that our nature-inspired playground equipment will attract more children outdoors and keep them playing longer."
Landscape Structures' nature-inspired products are designed to encourage children to get off the couch and into the outdoors to appreciate the natural world around them. Our kid-engineered Tree House look can now be added to any PlayBooster (for ages 5 to 12) or PlayShaper (for ages 2 to 5) playstructure. The Discovery Tree Climb™, Recycled Tree House Roof, Recycled Wood-Grain Panel, Tree Stump Transfer Module and Wood Plank Wiggle Ladder offer a unique and natural look to your playground structure. Challenging climbers like the Log Steppers and Mushroom Steppers can also be included in your playstructure design, and can also be included in any existing playground as freestanding play components.
In addition to the freestanding Log and Mushroom Steppers, Landscape Structures has also introduced the freestanding Log Crawl Tunnel and Log Balance Beam. These playground components blend the beauty of nature with the safety, age-appropriateness and durability found in manufactured equipment. They offer realistic wood and bark textures, and give kids ages 2 to 12 so much to discover. Landscape Structures' new Fossil Digs provide a sensory surprise for little ones as they dig through a sandbox, and a nature-inspired Log Bench helps take the natural theme to the entire park area. These new components enable the design of outdoor classrooms and other nature-inspired play and learning environments.
To learn more about the Play Naturally solution and how to create nature-inspired play environments, visit playlsi.com/play-naturally or call 888.438.6574.
Since 1971, Landscape Structures Inc. has been the leading commercial playground equipment manufacturer in the world. The employee-owned company is committed to making the world a better place with active children thriving in leading communities year after year, generation after generation. Landscape Structures encourages outdoor play that develops healthy kids and a sustainable world by creating innovative products that are environmentally responsible. The company's mission from day one has been to enhance children's lives by fostering and creating inspiring play experiences while honoring the environment.
###