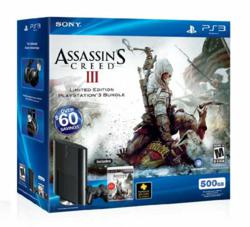 Detroit, Michigan (PRWEB) September 28, 2012
The new Playstation 3 Assassin's Creed III bundle is available for preorder at SportsFanPlayground.com for $299.99.
The bundle includes the Assassin's Creed III video game, the newly redesigned Playstation 3 with 500GB of space, Pulse headphones, and 2 wireless controllers. The bundle will be released on October 30, the same day that the Assassin's Creed game will be released individually.
The Playstation Vita will also have an Assassin's Creed III bundle available for the Playstation Vita console, as well. The Vita bundle consists of a silver Playstation Vita wi-fi edition and Assassin's Creed III: Liberation. The bundle is available for $249.99 and will also ship on October 30.
For more information, visit SportsFanPlayground.com.