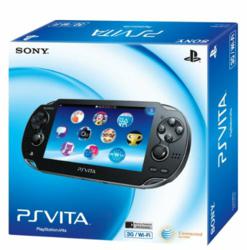 Detroit, Michigan (PRWEB) August 19, 2012
The Playstation Vita has become one of the top video game consoles worldwide, and SportsFanPlayground.com is offering low prices on various Vita consoles, games, and accessories for the handheld system.
SportsFanPlayground.com is offering the Playstation Vita console for $235.00 brand new and $186.95 used, while supplies last. The Vita wi-fi console allows for users to connect to their local wireless connection and play online in games and download content from the Playstation Store including games, add-ons for games, television shows and movies.
The store also has the various Playstation Vita memory cards available for low prices as well. The 32GB memory card is on sale for 22% off at $77.64. The 32GB card can store up to 8-16 full Playstation Vita games, 24 movies, 9,136 songs, or 6,400 photos.
The 16 GB card is available at 37% off at $37.85. The 16GB card can hold up to 4-8 Vita games, 12 movies, 4,568 songs, or 3,200 photos.
As for games, Mortal Kombat is one of the strongest game franchises in history across all consoles. The Playstation Vita version of Mortal Kombat is available for $19.85, 50% off of the retail price, while supplies last.
Preorders are available on the upcoming games for the system - Assassin's Creed III, Madden 13, FIFA Soccer 13, and Call of Duty: Black Ops Declassified.
For more information, visit http://www.SportsFanPlayground.com.
On Social Media -
Facebook - Facebook.com/sportsfanplayground
Twitter - Twitter.com/sportsfanplay
Pinterest - Pinterest.com/FanPlayground
Google Plus - Plus.google.com/b/115104847008351751780
About SportsFanPlayground.com -
The Sports Fan Playground is a leading online e-commerce provider of sporting good from the NFL, NHL, MLB, NCAA, NBA, UFC and WWE. The store also has an extensive variety of electronics which range from tablets, PCs and cameras to video games, DVDs, Blu-Ray Discs, appliances, lawn and garden products and more.
The store also carries the top brands in electronics and apparel including, Nike, Adidas, Apple, Sony, Samsung, Microsoft, EA Sports, and many more. The company recently began its initial expansion into clothing and jewelry and will continue to expand over the next several months.
Recently, SportsFanPlayground.com became an Alexa top 30,000 website, showing the strong popularity of the website.