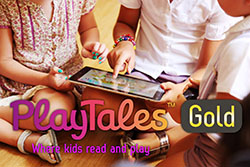 PlayTales is a dream come true
New York, NY (PRWEB) August 23, 2012
New digital bookstore subscription model for educational and playable children's e-books is now available for iPhone and iPad users. PlayTales, top digital e-book publisher and bookstore app for kids is now the Netflix for children's e-books with their new PlayTales Gold app. A subscription solution for the millions of young digital readers that offers a one-stop, universal app with new weekly interactive publications for kids in 8 languages, all for one low monthly/yearly price.
PlayTales Gold is a carefree solution for kids and parents with library features such as multiple book categories, multiple language options, new publications every week, a user friendly and personalized bookshelf, and the latest news about books and opportunities to participate with the PlayTales reading community. PlayTales Gold library universal app launches today in Apple AppStores worldwide and is coming very soon to: Android Google Play, Amazon AppStore, Verizon VCast, Blackberry AppWorld, and Intel AppUP.
The E-books that users can expect to find in PlayTales Gold are for new readers between the ages of 0 and 8. Books include interactive and game-like features on their pages, as well as optional story narration or autoplay, background music, and fun sound effects that are ideal for kids. The subscription to the bookstore only costs users $3.99 per month or $39.99 per year. With this subscription users will have full access to all titles in all languages within the PlayTales Gold catalog.
PlayTales Gold is also offering a FREE subscription program for libraries and educational institutions that can be accessed via the PlayTales website. For more information about this program contact educate(at)playtalesbooks(dot)com.
The original PlayTales Classic bookstore app where parents can buy books individually, has received major success from users around the world who have downloaded it from the AppStore and Android Market. With close to 3M downloads, PlayTales and its publications have been recognized for its friendly usability and innovative book features by Publishers Weekly and Tech Crunch among other top reviewers. PlayTales was also awarded the Audience award at the Mobile Premier Awards during the Mobile World Congress 2012 in Barcelona. The new PlayTales Gold App now offers full access to the most popular books being read by children that are guaranteed to intrigue and entertain kids as they read and play.
About PlayTales
PLAYTALES is a wholly-owned subsidiary of Genera Interactive, an internationally based, award winning application developer with offices in USA, UK, Spain, Brazil, Romania and China. PlayTales develops and distributes interactive playable storybooks for children within the world's leading children's bookstore app for Smartphones and Tablets. PlayTales is a multiplatform, multinational and multilingual service that targets leading platforms such as Apple, Android, Blackberry Playbook, Nook, Kindle Color, among others.