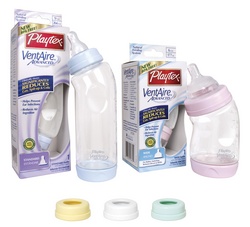 We understand there is a lot of confusion around the use of BPA in infant products
WESTPORT, Conn. (PRWEB) September 16, 2008
The new VentAire® Advanced bottle is made out of BPA-free clarified polypropylene, a durable and translucent plastic. The bottle design offers superior benefits for infants as it has been clinically shown to reduce colic, gas and spit-up better than competitors, as shown in a clinical study of over 11,000 feedings. In fact, 8 out of 10 moms in the study confirmed that their baby showed fewer signs of colic using the VentAire® Advanced system versus three leading brands*.
"The VentAire® Advanced bottle was designed with a unique micro-channel bottom vent to prevent air from mixing with the liquid ensuring that infants don't ingest excess air," said John Rousso, director of research and development, Playtex Infant Care. "And, its unique angled shape supports a semi-upright feeding position, which is recommended by pediatricians to help prevent ear infections."
Playtex Infant Care is committed to providing parents with BPA-free products. In fact, over 80 SKUs of Playtex Infant Care feeding and soothing products are already BPA-free. Playtex is in the process of converting the remaining products to BPA-free materials.
"We understand there is a lot of confusion around the use of BPA in infant products", said Gary Cohen, vice president and general manager Playtex, Energizer Personal Care Division. "As a leader in infant care, Playtex is committed to eliminating any consumer confusion by providing parents with a full line of BPA-free products that also provide superior feeding and comfort benefits for infants and toddlers. These BPA-free products are appearing in stores now. Consumers should look for the BPA-free/Phthalate-free icon on Playtex Infant Care products."
For more information or a complete list of BPA-free products or materials used in each product, please visit http://www.playtexbaby.com/bpafree/info.html.
About Playtex® Infant Care
Playtex® Infant Care, a division of Energizer Personal Care, is a leading manufacturer and distributor of infant products including the Playtex® Drop-Ins® Bottle System, Playtex® VentAire® bottles, a variety of spillproof products including The First Sipster®, Sipster® and the Insulator® and Coolster® Cups, Ortho-Pro® and Binky® Pacifiers and the Diaper Genie® Disposal Systems.
Playtex is a licensed trademark. All other trademarks are owned by Playtex Products, Inc.
*In a clinical study vs. Avent®, Gerber™, and Evenflo® reusable bottles.