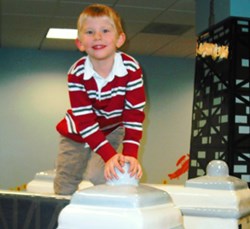 We are very proud of the services that we offer our residents, including a 10,000-square-foot sun deck, multiple WiFi lounges, fitness center, 24-hour grocery, onsite car rental and now the coolest play area in the city.
Chicago, IL (PRWEB) December 16, 2013
Understandably, Presidential Towers, Chicago's largest apartment community located in the popular West Loop area, is popular among young, single professionals. But young families also live in the complex because they like the city experience for their children.
"Parents needed someplace to take their kids to have fun that was outside of their apartment," says David Scharfenberg, Presidential Towers' General Manager. "As the largest community in Chicago, Presidential Towers has many amenities that smaller communities cannot offer. Yet, we did not have a place where kids could just be kids without interfering with the enjoyment of other residents. We needed a better option."
In order to serve both populations well, Scharfenberg sought to offer an amenity that parents and children would enjoy. Scharfenberg, who is also a parent, understood that kids need to play, so he asked his wife for her advice. She immediately remembered a play area that their kids had enjoyed at Seattle-Tacoma International Airport. Scharfenberg called the airport and they directed him to PLAYTIME.
"I was drawn to PLAYTIME by their experience and by the fact that their products encourage imagination and are constructed to meet or exceed regulatory safety standards," says Scharfenberg. "We are an apartment community and we're not in the daycare business. We didn't want ropes or ball pits. PLAYTIME is used in malls all over the country, so I knew they were a proven company, and they were a one-stop shop."
Together, Scharfenberg and the artists at PLAYTIME designed a Chicago-themed playground complete with Wrigley Field, a branded taxi cab, a boat that rests on carpeting that depicts Lake Michigan, and many other elements.
"I don't know of another high-rise residential, urban community that has dedicated this kind of attention to children," says Scharfenberg.
There were even two cement columns in the play space and PLAYTIME was able to wrap one of them to resemble Hancock Tower.
David O'Niones, Vice President of Sales for PLAYTIME, says that the Presidential Towers playground was a fun, creative project for the soft play company.
"We created a replica of Wrigley Field!" says O'Niones. "Chicago kids are going to love it! Presidential Towers is a stunning, vibrant community and they needed an equally stunning and vibrant option for families with children. PLAYTIME was thrilled to custom-design this play area."
The play area occupies a former law office. Scharfenberg says that Waterton Residential was willing to forego the income from the office suite in order to serve all of the Towers' populations well.
"We are very proud of the services that we offer our residents, including a 10,000-square-foot sun deck, multiple WiFi lounges, fitness center, 24-hour grocery, onsite car rental and now the coolest play area in the city," he says. "This indoor play area was a win for everybody."